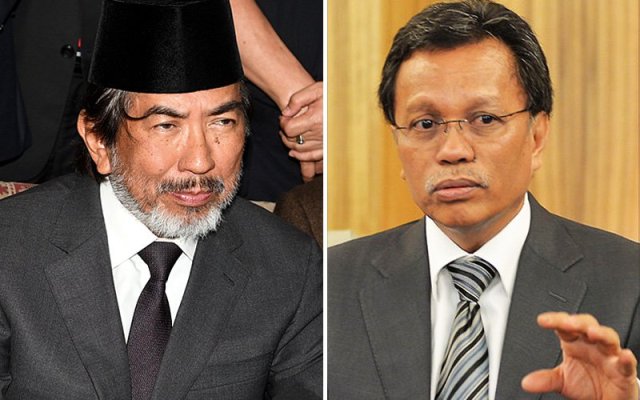 KOTA KINABALU — The High Court here today will make a ruling on who is the rightful Chief Minister of Sabah between Datuk Seri Mohd Shafie  Apdal and Tan Sri Musa Aman.
Kuching-based High Court judge Datuk Yew Jen Kie is scheduled to make the decision at 3pm  in an  originating summons filed by Musa to challenge Mohd Shafie's  appointment as the new Chief Minister, claiming that he is the the rightful Chief Minister of Sabah.
On Oct 24, Justice Yew reserved her decision to Nov 7  upon hearing lengthy submissions by counsel Tengku Fuad Tengku Ahmad and  S.Vanugopal, both  representing Musa, Datuk Douglas Lind, acting for Mohd Shafie and State Attoney-General  Datuk Zaleha Rose Pandin, for  the Yang Di Pertua Negeri Tun Juhar Mahiruddin.
Musa had initially filed a writ of summons against Mohd Shafie last May 17, but withdrew it.
However  in June, he filed an originating summons  seeking from the court , among others, a declaration that he is the rightful Chief Minister of Sabah appointed on May 10 by the Yang Di Pertua Negeri Tun Juhar Mahiruddin.
An originating summons requires no trial, where lawyers from both parties will file submissions and affidavits to argue their cases, while a writ of summons require a trial with calling of witnesses to testify.
In the originating summons,  Musa named Juhar as the first defendant and his successor, Mohd Shafie, as the second defendant, in which he sought a declaration that the May 12 appointment of Mohd Shafie as Chief Minister was illegal.
He also sought a declaration that he remained the lawful Chief Minister of Sabah and a declaration  that there was no revocation or dismissal of his appointment.
Musa also sought a declaration that the first defendant (Juhar) had acted unconstitutionally in appointing Mohd Shafie as a State Cabinet member and a declaration that all acts and things done by Mohd Shafie and/or his purported Cabinet after his purported appointment  as the Chief Minister are null, void and of no effect, as well as damaging.
Musa was sworn in as Chief Minister on May 10 after securing a simple majority in the 14th general election but lost the majority when several assemblymen from his party (UMNO) and from a Barisan Nasional component party (UPKO) jumped ship to give their support to Parti Warisan Sabah, which is led by Mohd Shafie.
On Nov 5, Musa pleaded not guilty at the Kuala Lumpur Sessions Court on  35 corruption charges over timber concession contracts in the state amounting to US$63, 293,924 (RM263,460,962.313).
For all the charges, Musa, 67,  was accused of soliciting bribes from eight timber concession company owners when he was Sabah Chief Minister cum Sabah Foundation Board of Trustees chairman   and the offences were committed in eight financial institutions in Hong Kong and Singapore between Dec 2004 and Nov 2008.
Judge Rozina Ayob granted  Musa, who is Sungai Sibuga  Assemblyman, bail of RM2 million  with two sureties and ordered him to surrender his diplomatic and international passports to the court pending disposal of the case, which had been fixed for mention on Dec 13.
Musa paid the RM2 million bail on Monday, despite Rozina  allowing him to pay the bail in instalments.
Rozina also directed Musa to stay in Kuala Lumpur and barred him from flying back to Kota Kinabalu pending settlement of his bail on Wednesday even though Amer Hamzah  informed the court that his client had to attend a case at the Kota Kinabalu High Court on Wednesday.
— BERNAMA