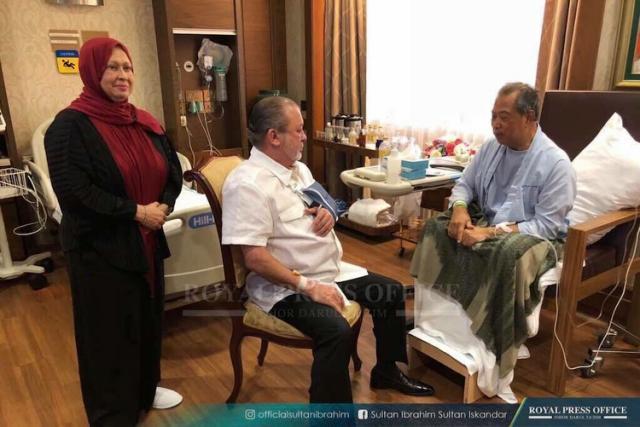 Singapore – The Sultan of Johor Sultan Ibrahim Ibni Almarhum Sultan Iskandar visited Home Minister Tan Sri Muhyiddin Yassin, who is recovering after surgery at a private specialist hospital in Singapore today (July 31).
Sultan Ibrahim spent almost 30 minutes with the minister, who underwent an operation to remove a pancreatic tumour on July 12.
His Majesty advised Tan Sri Muhyiddin not to worry too much and get stressed over his illness, but to focus on his swift recovery.
"I pray he will be able to return to work soon as the people and the country needs his leadership at this critical time," said Tuanku Sultan Ibrahim on his Facebook.
His Majesty also advised all parties to put aside political differences and pray that Tan Sri Muhyiddin will be up on his feet soon.
Sultan Ibrahim who happened to be in Singapore to seek treatment for an old polo injury to his shoulder took the opportunity to look up Muhyiddin at the hospital.
Also present was the minister's wife, Puan Sri Noorainee Abdul Rahman.
photo credit:DYMM Johor Sultan official website