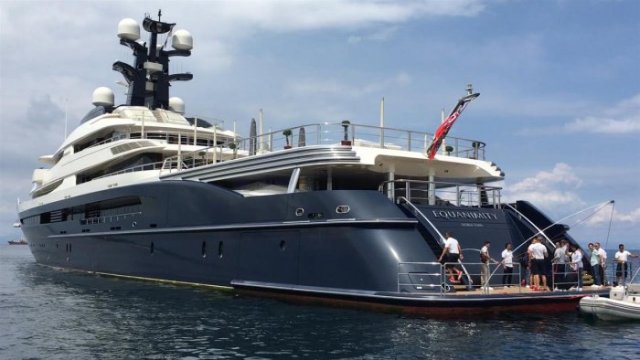 PORT KLANG –  Tun Dr Mahathir Mohamad said the United States has assured that Malaysia is indeed the owner of the super yacht Equanimity as it had been acquired by businessman Low Taek Jho, often called Jho Low, using funds siphoned from 1Malaysia Development Berhad (1MDB).
The prime minister said this was uncovered in the course of an investigation by the US Department of Justice (DOJ).
"The DOJ investigated and they found that this yacht belonged to Jho Low and that the money he paid for it was stolen money, from 1MDB," he told reporters after touring the luxury ship that was handed over to Malaysia by Indonesia on Aug 7, at the Boustead Cruise Centre here yesterday.
Dr Mahathir said the US had the documents on this.
"They have assured us that this is Jho Low's boat and they said if we want to keep it we are entitled to it because this is ours, and (the yacht had been) bought with stolen Malaysian money, and when we eventually sell this boat we're entitled to the proceeds," he said.
Dr Mahathir said that the purchase of the vessel, estimated to be worth RM1 billion, was an exercise in money laundering.
"When you steal money you have to put it somewhere, so in order to hide the money they buy properties or ships like this, and they think that this way the money that they have stolen is clean," he said.
The government, he said, planned to sell off the luxury ship as soon as possible and that it would cost some RM2 million a month for maintenance alone.
Dr Mahathir dared Jho Low to come and claim ownership of the super yacht.
"Jho Low claims that it belongs to him. Well he can come and claim," the prime minister said.
Dr Mahathir was accompanied during the tour by Finance Minister Lim Guan Eng, Defence Minister Mohamad Sabu, Inspector-General of Police Tan Sri Mohamad Fuzi Harun and Armed Forces chief General Tan Sri Zulkifli Zainal Abidin.
It was reported that the ship was seized off the coast of Bali by Indonesia in February at  the request of US authorities as part of a multi-billion-dollar corruption probe launched by the DOJ over 1MDB.
However, an Indonesian court ruled in April that the seizure was illegal and that the yacht should be returned to its owners.
But Indonesian authorities seized the yacht again in July following a formal request for legal assistance from the US. Indonesia then agreed it would hand over the super yacht to Malaysia.
— BERNAMA