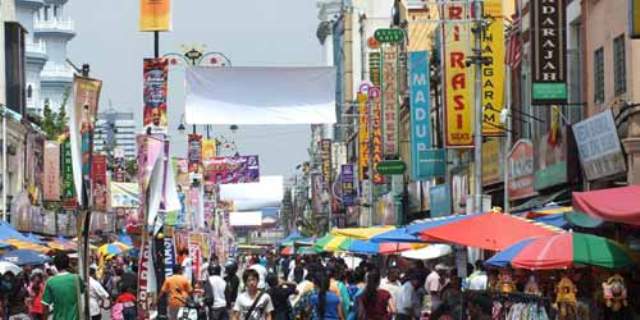 (By V. Sankara Subramaniam)

KLANG, Nov 2 (Bernama) — For many Malaysian Indians, the mention of Jalan Tengku Kelana brings to mind 'Little India', a popular shopping area among the Indian community, especially for their Deepavali needs.
This is because shoppers tend enjoy cheaper prices and better bargaining power than other places due to the fierce competition among traders there.
Jalan Tengku Kelana is the biggest "Indian street" in Malaysia, consisting of more than 100 pre-war shops erected during the 18th century.
Today, however, the rising number of petty theft cases in Little India's business enclave has brought fear to traders who worry that shoppers would think twice before visiting their shops, resulting in a loss of business.
MORE SURVEILLANCE NEEDED 
Little India Entrepreneurs Association president N.P. Raman said snatch thefts had become a disturbing trend, affecting the commercial area that was also a tourist attraction. The concern is now even greater now that more shoppers would be coming to the area to shop for Deepavali, which falls on Nov 6.
He proposed that the police install more surveillance cameras and increase police patrol from the road outside Our Lady of Lourdes Church to the commercial area including Jalan Mohet and Lorong Tingkat.
"We are facing an average of five to 10 cases of snatch theft in Klang town almost every day and the targets are mostly women shoppers.
"Many cases of theft have been reported along Jalan Tengku Kelana and even at the row of shops along Jalan Istana, in addition to other hotspots like Jalan Tengku Kelana 2 and Lorong Tingkat.
"Having police presence will give the public a sense of security. At least in this way, shoppers will feel better about their safety and our business will not be affected so much," he told Bernama in an exclusive interview here, recently.
He said that thieves circle the area and strike shoppers as the latter were getting out of their vehicles.
According to Raman, setting up round-the-clock police patrol like 'Ops Payung' at Jalan Tengku Kelana would be best in ensuring the safety of shoppers throughout the festive period.
"It is also good if the policeman could bring back the old method of randomly checking on motorcyclists entering Little India and those behaving in a suspicious manner.
"The police could check the MyKad of some motorcyclists,and this, in a way, could discourage snatch thefts from happening," he said.
REGULAR AUDIT
Meanwhile, the Malaysian Indian Network of Entrepreneurs Association (1Mine) president Datuk S. Gopinath said that the fire and rescue department should regularly audit the safety of all pre-war buildings in the street as well as the ones adjacent to the Musaedin Bridge.
He said the physical status of the buildings needed to be assessed each time there was a change of ownership, change in the function of the premises and when renovations were carried out.
"As most of the shoplots in Jalan Tengku Kelana are pre-war buildings, regular auditing should be carried out for the entire structure to avoid any untoward incident," he said.
He said this was important in order to preserve the buildings' unique identity and ensure the safety of some 250 traders who have been operating there since three generations ago.
Commenting on the issue of safety, Gopinath said People's Volunteer Corps (Rela) officers should be stationed at the whole stretch of Jalan Tengku Kelana to ease traffic congestion during major festive period like Deepavali.
He said there should be also a 24-hour call centre to update and alert shoppers in Little India about traffic conditions and flood reports, among others, so that they could better plan their shopping.
RM6 MILLION UPGRADE
Meanwhile, the Yang Dipertua of Klang Municipal Council (MPK), Datuk Mohamad Yasid Bidin said the council has agreed to install five closed-circuit television cameras (CCTV) along the stretch of Jalan Tengku Kelana for the festive period.
The CCTVs would be placed along Jalan Tengku Kelana and its surrounding areas namely Jalan Pulasan, Jalan Istana and Jalan Dato Hamzah.
"We will rent out the surveillance cameras to be placed in several hotspots along Jalan Tengku Kelana in view of the festive season, for a period of a month," he said.
He said the Selangor government has allocated RM6 million for MPK to improve and upgrade the infrastructure along Jalan Tengku Kelana, such as to improve the drainage system and boost tourism development in Little India with a project called the Royal Klang Town Heritage Walk.
— BERNAMA