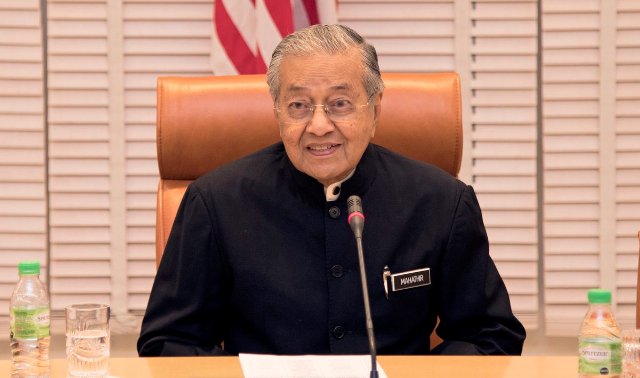 PUTRAJAYA — Prime Minister Tun Dr Mahathir Mohamad said today that there is no decision by Pakatan Harapan (PH) to accept Barisan Nasional (BN) Members of Parliament (MPs) on a mass basis and automatically.
Speaking to the media  after the PH Presidential Council meeting at the Perdana Leadership Foundation yesterday, Dr Mahathir,  who is also PH chairman,  said PH would  see the quality of people who wanted to join them.
"BN members who just want to be elected representatives but are not willing to work why should we consider. No automatic entry," he said.
"If the BN MP leaves the party and becomes independent and supports the government and appeals on bended knees that he or she wants to join PH,  then PH may consider," he added.
According to him, there were BN MPs who had stated they wanted to join PH on an individual basis while there were others who wanted to come in in a group.
"That cannot (in a group). BN MPs coming in a bloc they will outnumber us.  We don't want to be under them, we want to be above them," he said.
"So if  they (BN MPs) want to join, it has to be be one by one, after they have left the party and been independents for some time they can apply," he  added.
Asked if there was a blacklist of BN MPs (those who cannot join PH),  the Prime Minister said there was none.
Asked how (Jeli MP)  Datuk Seri Mustapa Mohamed was accepted into PH, Dr Mahathir said the former Kelantan UMNO chief had been seeing him since he was in (former prime minister) Datuk Seri Najib Tun Razak's Cabinet.
Queried further on his meetings with  BN MPs, Dr Mahathir said he had never called anyone.
"If they want to come and see me, I see them. I see everyone, even the press I see."
On a Parti Pribumi Bersatu Malaysia division calling on him to serve out his full term as prime minister, Dr Mahathir said: "I promised I will step down. I (will) keep my promise.
"You remember any occasion I did not keep my promise? I was the only dictator who resigned."
Asked if a timeline was set as to when he should step down in today's meeting, Dr Mahathir replied :  "I have already said,  I will be only around for two years.
"I don't know if  he (PH de facto leader and PKR president-elect  Datuk Seri Anwar Ibrahim) will allow two-and-a-half years," he  joked while looking at  Anwar who is his successor-designate.
At the press conference, Dr Mahathir  also announced that DAP advisor Lim Kit Siang was now a member of the PH Presidential Council.
— BERNAMA