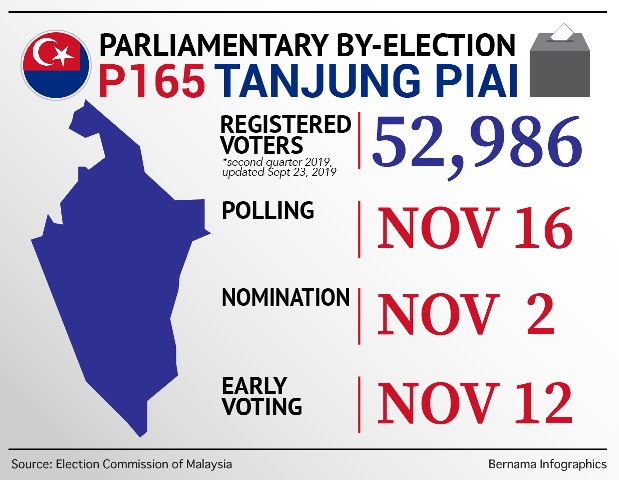 PONTIAN — Questions on who will be fielded by  Pakatan Harapan (PH) and Barisan Nasional (BN) to contest in the Tanjung Piai parliamentary by-election will be answered this afternoon with the expected simultaneous announcement by the two coalitions.
The Election Commission has fixed Nov 2 nomination day for the by-election.
Parti Pribumi Bersatu Malaysia (Bersatu) president Tan Sri Muhyiddin Yassin, who is also Johor PH chairman, is expected to make an announcement on the PH candidate at 2 pm.
Johor Menteri Besar Datuk Dr Sahruddin Jamal, who is  PH election director for the by-election, is expected at the event, together with other PH leaders, including Johor  Bersatu chairman Mazlan Bujang, Johor DAP chairman Liew Chin Tong, Johor PKR chairman Syed Ibrahim Syed Noh and Johor Amanah chairman Aminolhuda Hassan.
Tanjung Piai Bersatu division leader Karmaine Sardini's name is among three reportedly shortlisted as the PH candidate the candidate.
The Tanjung Piai by-election is called following the death of incumbent Member of Parliament Datuk Dr Md Farid Mr Rafik who died last Sept 21 due to heart complications.
Karmaine contested for the Pontian parliamentary seat in the last general election, but lost to Datuk Seri Ahmad Maslan of BN, who won with a slim majority.
Ahmad garnered 21,132 votes, while Karmaine  secured 20,299 votes.
Meanwhile, UMNO president Datuk Seri Dr Ahmad Zahid Hamidi is expected to launch the BN machinery for the Tanjung Piai by-election at 3.30 pm, during which he is also expected to announce the BN candidate.
Tanjung Piai MCA division leader Datuk Seri Wee Jeck Seng is said to be the potential BN candidate, having been its Member of Parliament for two terms, from 2013 to 2018, before losing the seat to Dr Md Farid in the last general election by 524 votes.
Polling for the Tanjung Piai by-election is on Nov 16.
— BERNAMA