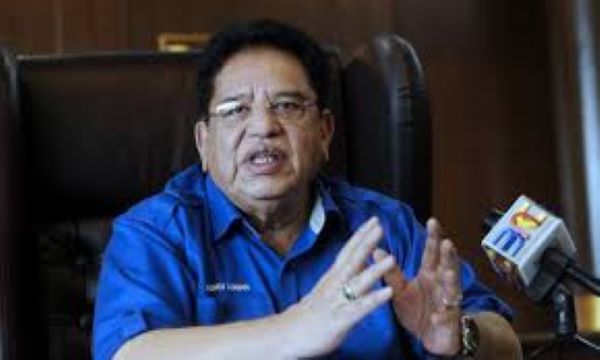 KUALA LUMPUR — Former Federal Territories Minister Datuk Seri Tengku Adnan Tengku Mansor admitted in the High Court today that he received a RM2-million cheque from businessman Tan Sri Chai Kin Kong almost four years ago.
Tengku Adnan, 69, in reading out his witness statement, said he received the cheque on June 14, 2016, for the campaign expenses of the Sungai Besar (Selangor) and Kuala Kangsar (Perak) by-elections on June 18, 2016, after two UMNO MPs, Datuk Noriah Kasnon and Datuk Wan Mohamad Khairil Anuar Wan Ahmad, died in a helicopter crash in Sebuyau, Sarawak, on May 5, 2016.
"I do not remember the exact date I approached Tan Sri Chai for the said political donation but this could have taken place in early June 2016. I informed him (Chai) that UMNO-Barisan Nasional Wilayah Persekutuan needed funds of about RM5 million for these by-elections. At that time, Tan Sri Chai did not promise to donate any amount to those parties but stated that he would make a donation later," he said when testifying under oath from the witness stand to answer the charge of accepting RM2 million from Chai.
On Oct 14 last year, the High Court ordered Tengku Adnan to enter his defence on the charge after finding that the prosecution had established a prima facie case against him.
The former UMNO secretary-general also said that after some time, Chai, who was the managing director of Aset Kayamas Sdn Bhd, informed him that he agreed to donate RM2 million to UMNO for both the by-elections.
"However, he required a little time to raise the funds and would pass the money to me later. I informed Tan Sri Chai that I would advance the RM2 million to UMNO first since I trusted Tan Sri Chai to keep his pledge of RM2 million and I had used my money in advance to pay for UMNO's expenses for both by-elections.
"Tan Sri Chai informed me that it was difficult to raise RM2 million in cash and he would issue a cheque for a sum of RM2 million. So I requested that the cheque be made payable to Tadmansori Holdings Sdn Bhd as I had already used my own money as advance to UMNO for the campaign and other expenses for the two by-elections," he said.
Tengku Adnan said that before he joined the Cabinet in 2001, he was a very successful businessman and was involved in various businesses, namely real estate, logging, manufacturing, trading, agriculture, hotel, livestock and food.
"One of the companies owned by me is Tadmansori Holdings Sdn Bhd. This company is a family company which was founded in 1984," he said, adding that he also made a declaration of assets to the prime minister at that time when he joined the Cabinet.
After Tengku Adnan had read out his witness statement, counsel Datuk Tan Hock Chuan requested the court for in-camera proceedings regarding his client's declaration of assets on the grounds that the documents are sensitive.
However, DPP Julia Ibrahim told the court that the prosecution needs time to look at the basis of the application.
The trial before Judge Mohamed Zaini Mazlan continues on Monday. The court will also hear the defence application on the same day.
Tengku Adnan was charged in his capacity as a public servant, namely, the Federal Territories Minister then, to having accepted for himself RM2 million from Chai via a Hong Leong Islamic Bank cheque belonging to Aset Kayamas Sdn Bhd which was later deposited into the CIMB Bank account of Tadmansori Holdings Sdn Bhd in which he had an interest, when it was known that Aset Kayamas had connection with his official duties.
He is alleged to have committed the offence at the Pusat Bandar Damansara branch of CIMB Bank Berhad here on June 14, 2016, under Section 165 of the Penal Code, which provides for a jail term of up to two years or a fine, or both, if convicted.
— BERNAMA