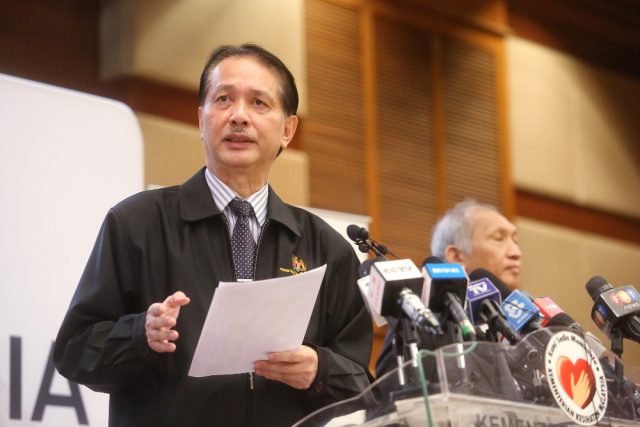 PUTRAJAYA — There have been no COVID-19-related fatalities in the country for 10 straight days since May 23, with the death toll remaining at 115, or 1.46 percent of the total number of cases.
Announcing the latest developments on the virus situation, which has shown encouraging improvement, Health director-general Dr Noor Hisham Abdullah said of the new cases reported overnight, only six involved Malaysians.
Overall, 38 new cases were recorded over the last 24 hours, bringing the case tally to 7,857 while infectivity cases stood at 1,338, all of whom have been isolated and given treatment.
"Of the new cases, 26 are imported ones who got infected abroad, 12 are local transmissions, six cases involve foreigners while only six were Malaysians," he said at the daily COVID-19 media briefing here today.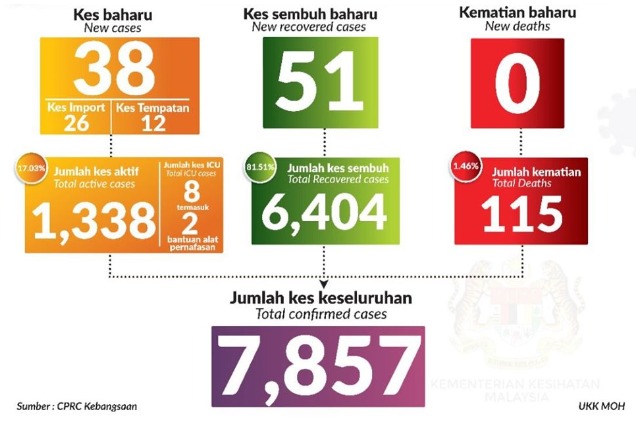 Another 51 patients have recovered and have been discharged, bringing the total number of recoveries to 6,404 cases (81.5 percent), he said.
To date, eight COVID-19 patients are being treated in the intensive care unit (ICU), two of whom require ventilator support, Dr Noor Hisham said.
On local transmissions, he said the daily number of Malaysians infected in the country (after setting aside imported cases, non-Malaysians in the community and non-citizens in Immigration detention centres) falls within the National Institute of Health's projections.
He said the figures reflected the positive impact as a result of measures taken by the government as well as Malaysians' compliance of SOPs and advice given.
"The ministry would like to congratulate all Malaysians for the cooperation given to the government that has led to this achievement in our effort to come together and contain the pandemic.
"Nevertheless, we must continue to be vigilant and follow all SOPs and advice to ensure there is no increase in cases in our respective communities," he stressed.
— BERNAMA