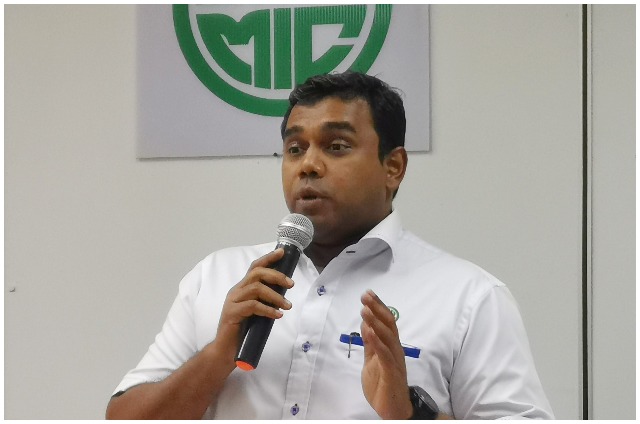 Padang Serai: MIC Vice President Datuk Sivarrajh Chandran has been appointed as the coordinator for the Padang Serai parliament constituency in Kedah and is expected to contest as a MIC Candidate at the forthcoming GE15.
On Saturday, August 22, Sivarrajh Chandran held a meeting with some 49 MIC branches in Padang Serai division to share the MIC leadership's decision appointing him as the Coordinator and to seek their cooperation in wresting the seat back from PKR.
The seat is currently held by PKR's Karuppiah who won the seat in 2018 with a majority of 8813 votes.
However, it may not be an easy ride for PKR in GE15 as the political scenario has greatly changed since then.
In 2018 it was Tun Mahathir who was leading the charge in Pakatan and his son Mukhriz Mahathir was then projected as the next Menteri Besar. The Kedahans flocked to vote in favour of Mahathir's Bersatu and the Pakatan Harapan coalition.
Today the situation is different. Mahathir has lost his premiership and the party to Muhyiddin Yassin who is now heading Bersatu and the grand-coalition Perikatan Nasional. PAS is now helming Kedah with Muhammad Sanusi Md Nor as the Menteri Besar.
MCA which contested under Barisan Nasional (BN) in 2018 is expected to give up the Padang Serai seat in favour of MIC.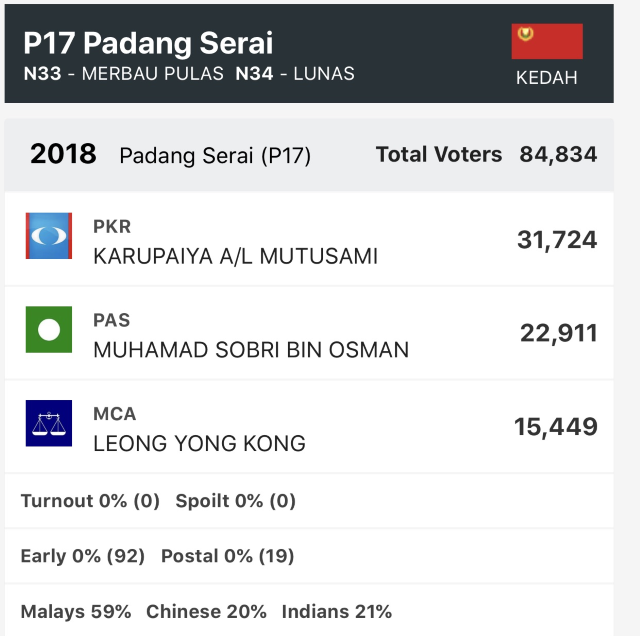 The voting pattern in 2018 is also interesting. MCA-BN's candidate Leong Yong Kong managed to poll only 15,449 whereas PAS polled more than him with 22,911 votes.
This time PAS will not contest in Padang Serai paving the way for MIC to take on PKR.
Padang Serai is also one of the rare parliament constituencies in West Malaysia where the Indian voters' number more than the Chinese voters. Padang serai's Malay voters comprise 59% while the Indians form 21% of the electorate. The Chinese votes comprise only 20%.
So adding BN and PAS votes comes to 38,410 which is 6,686 votes more than what the winner PKR's Karuppiah polled in 2018.
Karuppiah polled only 31,724 votes and yet managed to win because of the split between BN and PAS. This time BN and PAS are joining hands as Muafakkat Nasional.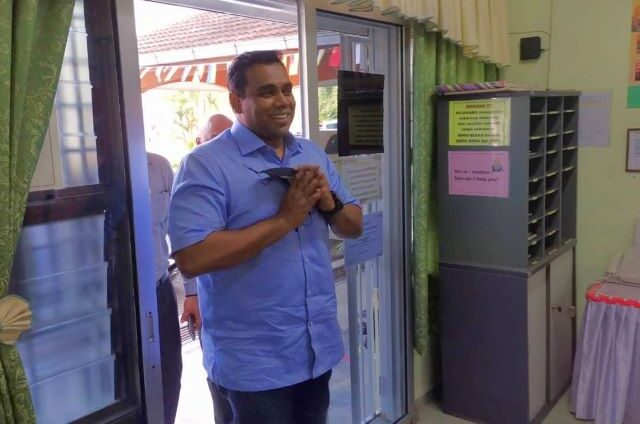 Since taking up his appointment as the Coordinator for Padang Serai, Sivarrajh has begun his campaign trails visiting strategic locations and attending functions in Padang Serai to meet the voters.
This would be the first time MIC will contest in a parliament seat in Kedah. However, the constituency is not an unfamiliar territory to the party as in several previous general elections MIC always contested in Lunas state assembly, which falls under the Padang serai parliamentary constituency.
Sivarrajh also met with local PAS leaders.
Sivarrajh is also the former member of Parliament Cameron Highlands. On July 28 he won in his appeal to quash the decision of the Election Commission (EC) in disqualifying him from contesting or voting in an election for five years beginning 2018.
-R.Mutharasan