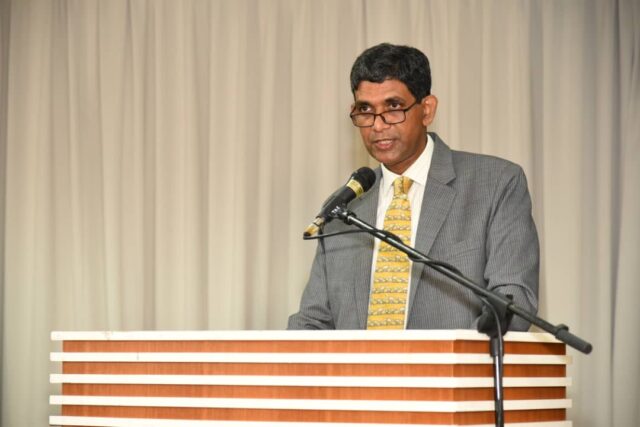 Malaysian Association of Traditional Medicine (PEPTIM) in partnership with the High Commission of India in Kuala Lumpur organized celebration of Siddha Day on 23rd of Decem at the Netaji Subhash Chandra Bose India Cultural Centre (NSCBICC) at Brickfields, Kuala Lumpur. The celebrations assume special significance this year as India celebrates Azadi Ka Amrit Mahotsav or 75 years of independence.
The event began with welcome remarks by the PEPTIM representative, who spoke about the celebration of Siddha Day to commemorate the birthday of the great sage Siddhar Agathiyar. In continuation of the celebration, a day long Siddha Expo & Free Medical Camp will be held on 25 December 2021 at the NSCBICC, KL.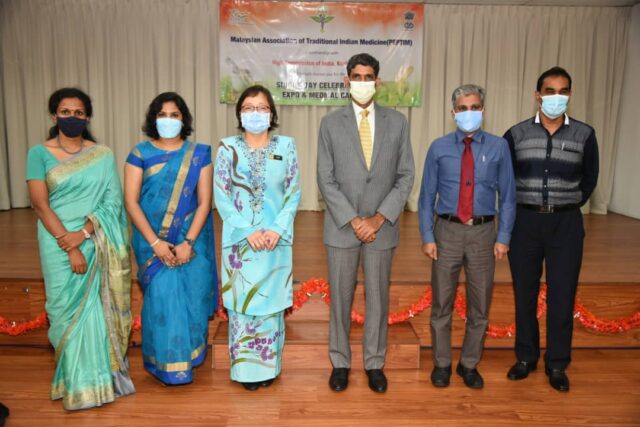 High Commissioner H.E. Mr. B.N. Reddy delivered the Keynote Address at the event. In his remarks, he highlighted the relevance of traditional medicine systems for contemporary health and lifestyle related problems. He outlined various initiatives of the Ministry of Ayush, Government of India, to promote practice and research in Siddha and other traditional medicine systems. He noted that the cooperation between India and Malaysia was strong and growing in the field of traditional medicine systems. High Commissioner also highlighted the immense potential for future collaboration.
Director of Traditional and Complementary Medicine Division, Ministry of Health, Government of Malaysia, Dr. Goh Cheng Soon delivered the felicitation address and highlighted the long and continuing practice of Siddha system of medicine in Malaysia. She expressed the commitment of Government of Malaysia to continue to work with India in this important area of traditional medicine systems.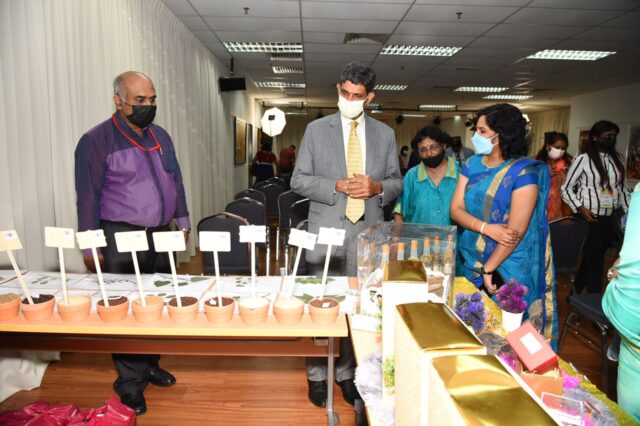 Mohana Dass Ramasamy, Senior Lecturer and Deputy Head of the Department of Indian Studies in University Malaya and Dr. Janany Pohoopalan, President of PEPTIM made presentations highlighting the various aspects of Siddha system of medicine. Siddha Yoga performances by practitioners showcased the importance and practice of Siddha for a healthy life.
The Siddha Expo on 25 December will showcase the natural herbs, plant and other ingredients of various medicines used in the practice of Siddha system of medicine, instruments used in medicinal preparations etc. The Expo will also showcase various organic food items and natural herbs available across the country. The objective of the Expo is to promote the understanding of Siddha treatment among the general populace.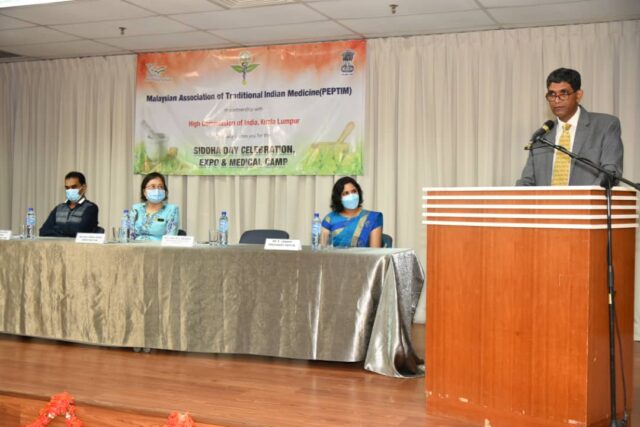 In addition to the Expo, a Free Siddha Medical Camp will be held on 25 December at NSCBICC, KL aimed at providing Siddha Medicine/healthcare services to meet the immediate health care needs of the community. Customized health camps are planned for the day offering comprehensive health services such as preventive, promotive and referral services. Multi-disciplinary areas of practice include Naadi reading (Pulse reading), Consultation for Sool maruthuvam (gynaecological), Varmam treatments, Herbal remedies etc. All are invited to attend.