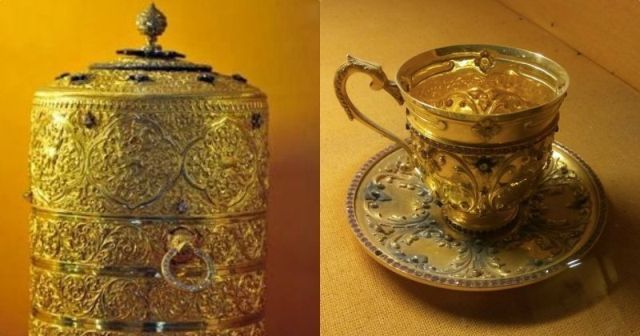 NEW DELHI — Indian police have launched a nationwide manhunt to track down the perpetrators of a heist in the museum of the southern city of Hyderabad's last king, reported Xinhua.
A gold and diamond-studded lunchbox, along with a ruby and gold teacup, saucer and teaspoon — all belonging to Mir Osman Ali Khan, formerly princely state of Hyderabad's last Nizam (king), and valued at US$7 million — was stolen from Nizam museum earlier this week.
"Though the theft of items belonging to the city's last king and once world's richest man was discovered Monday morning, we suspect it was carried out the previous night. Thieves broke open the wooden ventilator of the museum to get inside," a police official said Wednesday.
"The burglars had also tampered with the museum's closed-circuit TV cameras to avoid being detected. It was a well-planned crime. Earlier it was a localized probe only, but now we have expanded our manhunt nation-wide to nab the burglars and restore the museum's pride," he added.
The Nizam museum was opened to the public 18 years ago, though Khan died in 1967 after ruling the largest princely state of Hyderabad from 1911 to 1948.
During his rule, Khan was labelled the richest man in the world, having an estimated fortune of US$2 billion in the early 1940s or two percent of US economy back then, while treasury of the newly formed Indian government recorded an annual revenue of US$1 billion only.
His museum houses over 450 artifacts which were gifted to the last king as presents. It also comprises some expensive gifts given to his father, Mir Mahboob Ali Khan, the sixth Nizam.
Other costly displays at the museum included the world-famous Jacob's Diamond, which was the size of an egg, several of Nizam's cars, including a 1930 Rolls Royce, and a 150-year-old manually operated elevator.
A sword belonging to the same royal family was stolen from another museum in Hyderabad a decade ago.
–BERNAMA