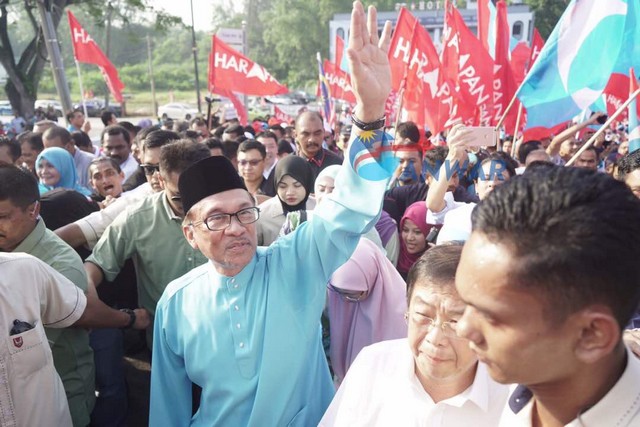 PORT DICKSON ―  Pakatan Harapan (PH) candidate for the by-election for the Port Dickson Parliamentary constituency Datuk Seri Anwar Ibrahim stole the attention of the people when he demonstrated his dancing talent when attending an Indian Cultural Show in Bukit Pelanduk yesterday (October 5).
The PKR de facto leader, who arrived at the venue at the Kampung India Community Hall at 9.50pm, spent almost three minutes performing dance steps akin to the movements of a popular Tamil film star, the late MG Ramachandran (MGR) to woo the audience.
His performance received loud cheers and claps from about 500 local residents who attended the programme held in conjunction with his campaign for the by-election.
It was also attended by Deputy Prime Minister Datuk Seri Dr Wan Azizah Wan Ismail, who is also Anwar's wife, and the former Member of Parliament for Port Dickson  Datuk Danyal Balagopal Abdullah.
"Tonight I am rather happy, I can certainly dance to the song of MGR and memorise the lyrics a little," said Anwar in his speech after his 'performance'.
Meanwhile, Anwar also called on the constituents to come out in numbers on polling day on Oct 13 to enable him to win with a large majority.
He said in the three by-elections in Selangor previously, the number of voters who came out to cast their ballots was small and the same situation should not be repeated in Port Dickson.
Meanwhile, Wan Azizah who is also PKR president also spoke at the event saying that the Port Dickson by-election was an opportunity for Anwar to make a return to Parliament after he was denied the right for so long.
She said the nation needed a leader like Anwar who truly understood the meaning of hardship faced by the people.
"He wanted to offer his services for the nation although he had previously received many career offers abroad but he chose to remain in the country because he wanted to serve the people and nation," she said.
The Port Dickson Parliamentary seat was vacated by incumbent  Danyal Balagopal on Sept 12, to enable  Anwar who recently won the post of PKR president unopposed, to contest and return to the Dewan Rakyat.
The Election Commission had fixed polling day for Oct 13 while early voting will be on Oct 9.
The Port Dickson Parliamentary constituency has 75,770 registered voters who are eligible to vote this time comprising 43 per cent Malay voters, Chinese (33 per cent), Indians (22 per cent) and others (two per cent).
— BERNAMA