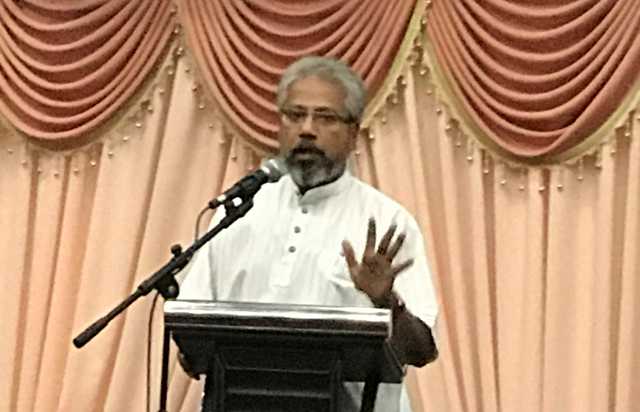 Putra Jaya – Minister in the Prime Minister's Department Senator P Waytha Moorthy will be attending the VI Congress of the Leaders of World and Traditional Religions in Astana, Kazakhstan beginning today (October 10) until October 12, 2018.
He will begin his visit by participating in the Third Meeting of the Council of Religious Leaders today, which is part of the conference.
The Minister will also attend an official reception hosted by the President of the Republic of Kazakhstan Nursultan Nazarbayev to honour participants of the Congress, in the evening.
The Congress, themed "Religious Leaders for a Safe World", will also have panel discussions before issuing the Final Document of the Congress.
Among topics to be discussed at the panel sessions include; "Religions in a changing geopolitical landscape: New opportunities to unite humanity, religion and globalisation," "Religion and globalisation: challenges and responses" and "The role of religious leaders and politicians in overcoming extremism and terrorism."
Waytha Moorthy will also join Congress delegates at an official reception hosted by the Chairman of the Senate of the Parliament of the Republic of Kazakhstan Kassym-Jomart Tokayev on the second day of the event.
The Congress, organised by Kazakhstan was first held in 2003 in Almaty to identify common ground between world and traditional forms of religions and to create an international and inter-faith institute for promoting dialogue between religions and finding shared solutions.
Its priorities include establishing peace, accord and tolerance as fundamental principles of humanity; promoting mutual respect and tolerance between religions, nations and ethnic groups; and preventing the abuse of religious beliefs to fuel violence and escalate military conflicts.
The 6th edition of the Congress aims to promote global dialogue among civilizations, cultures and religions; deepen and strengthen mutual understanding and respect among different religious communities; develop the culture of tolerance and mutual respect as opposed to the ideology of hatred and extremism; and oppose claims "a clash of civilizations" used to discredit religions and the politicisation of theological disputes as well as attempts by one religion to undermine another.