PUTRAJAYA — The Federal Court has set Sept 13 for clarification regarding the constitutional challenge bid by the Malaysian Bar and Advocates Association of Sarawak (AAS) over the validity of former top two judges's extension of tenure as Chief Justice and Court of Appeal President then after reaching retirement age.
Solicitor for the Malaysian Bar, Farez Jinnah said he received a letter via email from the Federal Court registrar notifying that the matter had been fixed for clarification at 2.30 pm on the said date.
"The court has not indicated what it wanted to clarify but we will assist the court as best as we can," he said when contacted.
On March 14 this year, the Federal Court seven-man bench led by Federal Court judge Tan Sri Hasan Lah reserved the court's decision on the constitutional challenge after hearing submissions from all parties.
The other judges were Chief Judge of Malaya Tan Sri Zaharah Ibrahim and Federal Court judges Tan Sri Zainun Ali, Tan Sri Ramly Ali, Datuk Sri Balia Yusof Wahi, Tan Sri Aziah Ali and Datuk Alizatul Khair Osman Khairuddin.
On Dec 19 last year, the High Court in Kuala Lumpur allowed the Malaysian Bar's application to refer five constitutional questions concerning the validity of Tun Raus Sharif and Tan Sri Zulkefli Ahmad Makinudin's appointments as additional judges and respectively as the Chief Justice and Court of Appeal President then after they had attained the mandatory retirement age of 66 years and six months.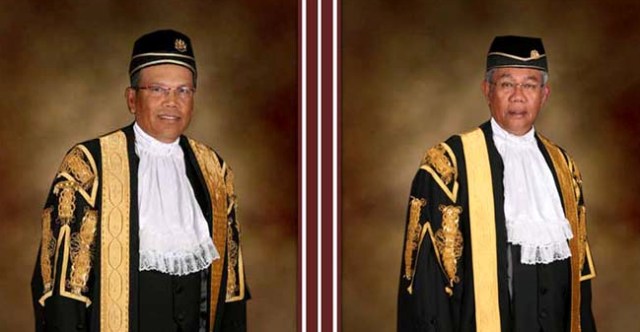 In its originating summons filed last year, the Malaysian Bar sought a declaration that Tun Arifin Zakaria's advice as the Chief Justice at the material time, to the Yang di-Pertuan Agong on March 30, 2017, that Raus and Zulkefli be appointed as additional judges under Article 122(1A) of the Federal Constitution, was unconstitutional and void.
The Malaysian Bar also sought declarations that Raus and Zulkefli's appointment as chief justice on Aug 4, 2017, and Court of Appeal President on Sept 28 , 2017, respectively were null and void.
Early this year, the Kuching High Court also referred to the Federal Court the Advocates Association of Sarawak's (AAS) legal challenge to the appointment of Raus and Zulkefli.
On July 7 last year,  the previous government announced that Raus would remain in office for another three years from Aug 4, 2017, while Zulkefli would remain in his post for another two years from Sept 28, 2017.
On June 7 this year, Raus and Zulkefli submitted their letters of resignation to the Yang di-Pertuan Agong, who consented to the resignation of both judges on June 8.
On June 13 this year, the Chief Registrar's Office issued a statement that Raus and Zulkefli would resign on July 31 after completing their judicial duties.
— BERNAMA