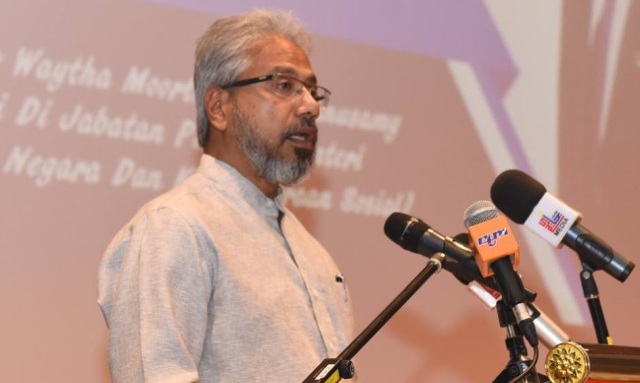 RAWANG — A new mechanism will be implemented to ensure the Socio-Economic Development Unit for the Indian Community (SEDIC) fund's disbursement reach the targets of the community, said Minister in the Prime Minister's Department P. Waytha Moorthy (pic).
He said that SEDIC had been tasked to give out grants and assistance to Indian non-governmental organisations (NGOs) to run programmes for the community but questions had been raised on the effectiveness of the programmes carried out under the previous government.
"I have initial look at some papers that were given to me. It is shocking that many NGOs have been given fund to conduct various activities that we have never heard before. I have been working with the grassroots people but I have never heard of such activities being carried out.
"There will be a mechanism to study the viability of implementing the programmes to be carried out. There will be updates from the recipients so that the people can see their progress,"he said when declaring the official opening of the 42nd Biennial Delegates Meeting of the Malaysian Telegu Association, here today.
Based on announcements by the previous administration, it appears that over RM2 billion had been disbursed through operating and development expenditures to implement programmes and projects for the Indian community.
On Friday, Waytha Moorthy said the National Audit Department was conducting an audit on SEDIC in the range of six to eight months to clear all suspicions and misconceptions in the unit.
The audit covers all aspects in the running of the unit, including planning, implementation, input, output and impact of programmes carried out by the unit.
It also involves three other agencies parked under the unit, namely the Special Implementation Task Force (SITF), Secretariat of Empowerment of Indian Entrepreneurs (SEED) and Action Plan for the Future of Tamil Schools in Malaysia (PTST).
On another note, Waytha Moorthy said the SEDIC will set up a new team in mid October, consist of senior government servant who are not aligned with any political party to go through a restructuring process and would announce its new structure including the incoming director-general and other appointees soon.
— BERNAMA