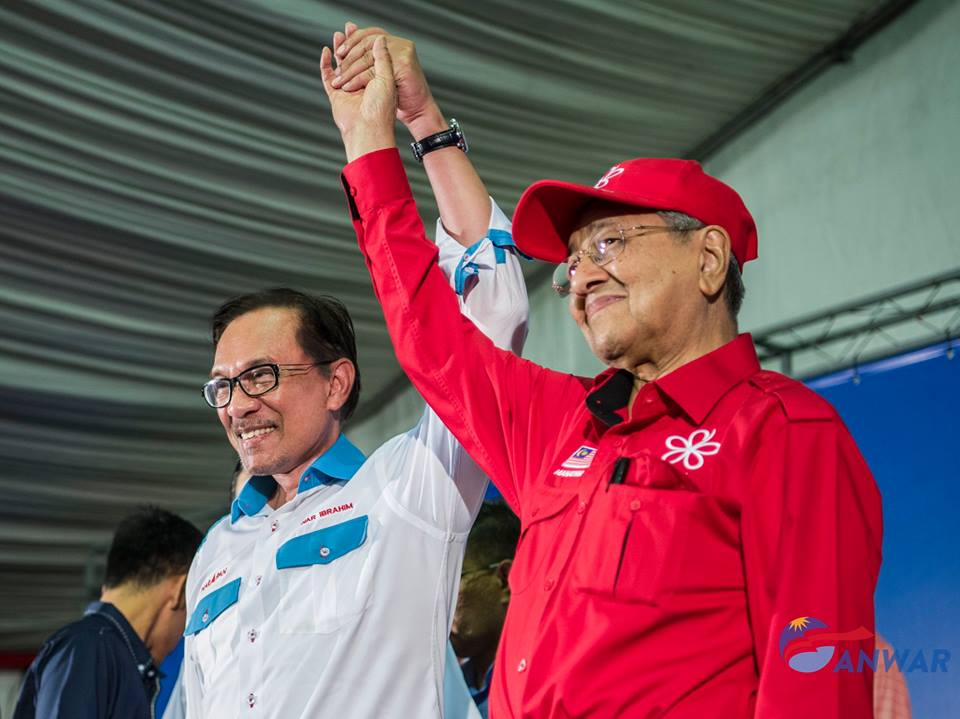 SHAH ALAM – Prime Minister Tun Dr Mahathir Mohamad has reiterated that he holds on to the promise that Datuk Seri Anwar Ibrahim will take over as the prime minister when he retires.
However, he said, he will leave it to the people to determine who is eligible to be his successor.
"It is inevitable that I will have to leave; there will be a successor … if the people want Datuk Seri Anwar Ibrahim (as the prime minister) they are entitled to have him. I cannot guarantee (that my successor will be a good prime minister) like when I chose (Tun) Abdullah (Ahmad Badawi). I thought he will be good, but see what he did. Similarly, (Datuk Seri) Najib (Tun Razak), the son of Tun Abdul Razak, but see (what happened). However, so far, my promise is that after I step down, Datuk Seri Anwar Ibrahim will take over; it is up to the people to decide," he said at the 'Bicara Minda' talk show at Dewan Karangkraf here today.
Dr Mahathir's wife, Tun Dr Siti Hasmah Mohd Ali, was also present.
On allegations that the charges filed against Datuk Seri Dr Ahmad Zahid Hamidi were politically motivated, Dr Mahathir said the UMNO president has to prove in court that he is innocent of all the charges he faces.
"He must show proof that he did not do wrong, that the 45 charges have been made up by us. Show us with the proof … there must be documents. Only then can we be accused of deliberately taking revenge (against him).
"These charges were drawn up by the Attorney General (AG) (Tommy Thomas) and the AG is not a politician. He is an outsider … he (the AG) was also opposed to me at one time. The Attorney General cannot draw up charges without evidence acceptable to the courts," he said.
Ahmad Zahid faces 10 counts of criminal breach of trust and eight counts of bribery involving RM42 million and 27 counts of money-laundering involving RM72 million.
Replying to a question from the moderator of the programme, Tan Sri Johan Jaaffar, whether he still loves UMNO, his former party, Dr Mahathir said: "UMNO is no more. The UMNO which I led at one time held on to the struggle that we promised to the people, religion and nation but UMNO's struggle now is to retain Najib as the biggest thief."
The Prime Minister said he is not vengeful because, if he is, then he cannot work together with many people.
"I (now) cooperate with the people who once called me 'mahazalim' and 'mahafiraun' and I have become their friends," he said.
Asked whether the country can achieve Vision 2020 to become a developed nation by that year, Dr Mahathir said the process of national development will take time though the government has a way to expedite it.
He said the nation has lost between 13 and 14 years following the failure of the previous government to pursue the vision and instead changed the existing policies.
"As such, we cannot achieve the objective that we have set. Now, we want to resume with new industries, new approaches, higher efficiency. Then, we can achieve Vision 2020, perhaps in 2025," he said.
— BERNAMA