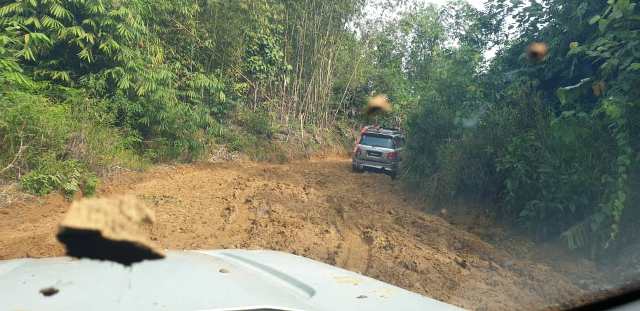 CAMERON HIGHLANDS — DAP veteran leader Lim Kit Siang had a feel of Orang Asli community living when he celebrated the new year at the Semoi Lama Orang Asli settlement in Hulu Jelai here last night.
Lim who was with a convoy of 10 four-wheel-drive vehicles, was stranded in the village from 6pm on Monday, as the timber path leading to the main road linking Sungai Koyan to Ringlet was filled with mud following heavy rains.
Looking at the situation the group decided to put up the night by the river at the Orang Asli settlement and greet the new year together with a simple meal of rice, sardines and omelette.
Also in the convoy were the DAP candidate for Cameron Highlands in the 14th general election (GE14)  M.Manogaran, Bentong MP Wong Tuck, Tanah Rata state assemblyman Chiong Yoke Kong, Bernama News Channel journalist  Dhiyaulhaq Hamzah, cameraman Abdul Rahman Othman and driver Khairul Azizi Yahya.
"Happy New Year! This is an unexpected programme and there must be a reason why we are celebrating new year here. As you can see it is difficult to get in and out of here and the fate of the Orang Asli community has been the same after 60 years," he said, referring to the Orang Asli poor living conditions even after six decades of independence.
Lim, who is also Iskandar Puteri MP in Johor said, action should be taken to ensure that the Orang Asli settlers could enjoy the same standard of living as other communities.
"Should they fall sick or in an emergency what will happen? The Orang Asli settlers have been lamenting over the damaged roads, poor telecommunications and right now we can feel what they have been going through," he added.
According to Lim, most of the convoy members tried to contact several quarters such as the Transport Ministry, Rural Development Ministry and Communications and Multimedia Ministry but to no avail due to communication problems.
The convoy members finally left the site at about 11 am on New Year's day.
Earlier on Monday, the Jelajah Jelai convoy together with Lim Kit Siang officiated the Kampung Dayok Pakatan Harapan Operation Room and spent some time mingling with the local residents.
The Jelajah Jelai tour series is being held ahead of the Cameron Highlands parliamentary by-election scheduled to be held on Jan 26.
The parliamentary seat was won by Barisan Nasional through Datuk C. Sivarraajh in GE14, but the seat was declared null and void by the Election Court on Nov 30 after it was found that corrupt practices were committed to garner votes.
–BERNAMA