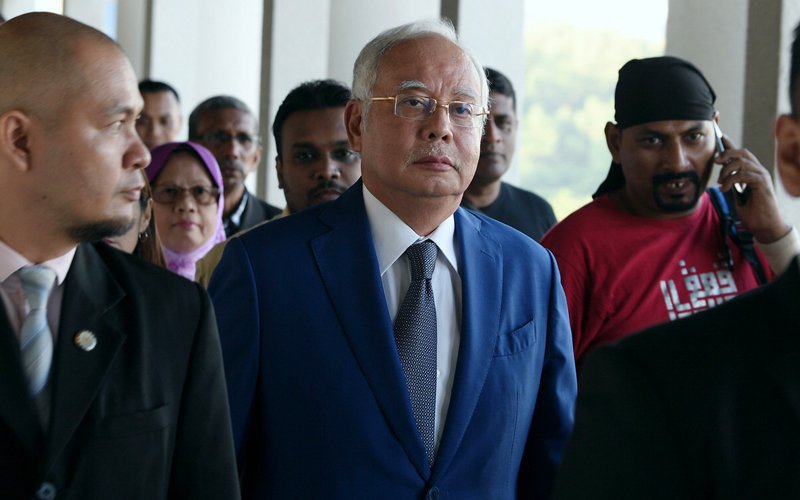 KUALA LUMPUR — One of the highlights of Datuk Seri Najib Tun Razak's SRC trial from Aug 5- 9 was obviously former finance minister II Datuk Seri Ahmad Husni Hanadzlah's testimony.
But prior to the 56th witness' stunning revelations of "autocratic leadership", another witness shared evidence that pointed to financial recklessness.
DAY 48 (Aug 5) – AmBank former relationship manager, Joanna Yu Ging Ping, 48, told the High Court that fugitive businessman Low Taek Jho or Jho Low informed her that Najib did not want to close his accounts with AmBank.
According to her, AmBank's senior management in late 2014 proposed and discussed closing Najib's current accounts as they were constantly overdrawn and that the bank often had to wait for adequate funds to be deposited in order to clear cheques issued by Najib.
DAY 49 (Aug 6) – Yu told the High Court that Jho Low dubbed Najib as 'Optimus Prime' (OP), the main character and a chivalric sentient being in the Transformers movies.
She said Jho Low used the abbreviation to refer to Najib in his Blackberry Messenger chat when both of them were talking about three transactions in the accused's personal account.
The 54th prosecution witness also said over RM606.51 million was deposited and spent by the former prime minister involving his three bank accounts, 2112022011-898; 2112022011-906; and 2112022011-880 between 2013 and 2015.
According to the bank documents tendered in court, the credited amount into the accounts came up to precisely  RM606,510,434.66.
The High Court also heard that it was impossible for Najib to utilise the money in his accounts if he had no knowledge of it having been deposited into the accounts.
Yu, who handled Najib's accounts said the accused, as the account holder, should know what was happening in his accounts particularly as he had been issuing cheques.
She replied in the negative when deputy public prosecutor Datuk V. Sithambaram asked whether Najib had ever queried about the source of the money.
The High Court also heard that Najib never filed any civil suit against AmBank for wrongful utilisation of funds in his three accounts.
Next in the dock, former finance minister II Datuk Seri Ahmad Husni Hanadzlah told the High Court  that Najib had refused to allow a government delegation to go to Switzerland to clarify on the money that was frozen by the Swiss government.
He said upon being informed that an investment fund belonging to SRC International Sdn Bhd (SRC) in a bank in Switzerland had been frozen by the Swiss government for money laundering, he went to meet with Najib.
He sought permission to send a delegation from the Finance Ministry, Bank Negara and Retirement Fund Incorporated (KWAP)  to bring the documents to prove that the money was a loan from KWAP but Najib did not give his consent.
Ahmad Husni, 67, also described  Najib's influence over SRC as one of autocratic leadership, saying he merely followed Najib's orders.
The witness said he also met with the prime minister to express his concerns over the plans by 1Malaysia Development Bhd (1MDB), a company under Finance Ministry Incorporated (MKD) to invest in PetroSaudi International Ltd.
"I told him we (the government) could not invest in PetroSaudi because the company was still exploring for oil. If the oil is not found, the investment would be gone.
"Apart from that, the 1MDB staff also has no experience in oil and gas. I told Najib why not ask Petronas (Petroliam Nasional Berhad) to invest in the company because Petronas has more experience in the field," he said.
But Najib told him, "You don't worry, Husni, from today onwards, don't get involved, I don't want you to interfere".
The witness said he also cautioned that the government could not set up a company without conducting a feasibility study.
"I told him we needed to have the financial projections of 10 to 20 years to ensure the company is viable, but he said 'I know what I'm doing, I am going ahead'.
"I realised then that I was not needed, except to sign documents.
DAY 50 (Aug 8): Ahmad Husni told the High Court that he personally met with Najib more than 20 times to voice his concern over the country's administration, including on the RM4 billion loan by SRC from KWAP.
"If something was wrong, it should be fixed," he said, adding that the Cabinet meetings which he attended rarely discussed matters on approving guarantee letters for SRC loans.
Ahmad Husni  said he did not object to SRC's second application for a government guarantee of RM2 billion loan from KWAP in 2012 because he knew there was nothing he could do and he was not in the country when the second loan application was tabled and approved by the Cabinet.
On his resignation in 2016, the witness by his own admission said he lied to the media over the reason.
Out of respect, he said he told the press that his resignation had nothing to do with 1MDB and SRC and that he had quit voluntarily.
"The newspapers, they will write all sorts of stories, they will spoil the (reputation of the) PM. I was not telling the truth. I was covering for the PM," he said during cross-examination by Najib's lawyer Tan Sri Muhammad Shafee Abdullah.
Ahmad Husni testified that sometime in late 2016, Najib ordered blogger Raja Petra Kamaruddin to personally attack him and his son following his speech on 1MDB in the Dewan Rakyat.
The witness said the attack began with Raja Petra Kamaruddin allegedly leaking on Facebook, minutes of an economic council meeting which his son Khalid Ahmad Husni attended, and claiming that he was angry with Najib when his son failed to get a highway concession project worth RM2.7 billion.
Ahmad Husni said Najib was also behind the charges of sexual harassment against him in 2016.
He disagreed with Muhammad Shafee that due to the attacks, he was upset and angry with Najib.
"I am not angry. I lived for UMNO. In fact, everyday I prayed that God will open the door of Najib's heart to see the truth. I have never been angry with Najib because he is just a normal person," he said, adding as a result of Raja Petra's writing, his son was dismissed from the company.
Ahmad Husni said he had thought about resigning a year prior to the allegations, but wanted first to set right 1MDB's rationalisation plan and settle its debts but when the plan did not go accordingly, he started thinking about leaving his post.
"I prayed in front of the Kaabah, crying…and after I returned from Makkah, I got a calling to quit as minister," said Ahmad Husni, who was Finance Minister from 2009 to June 27, 2016.
DAY 51 (9 Aug): A Malaysian Anti-Corruption Commission (MACC) senior assistant commissioner told the High Court that he failed to get the original minutes of meetings of SRC for 2013 because its former chief executive officer Nik Faisal Ariff  Kamil had fled overseas.
Rosli Husain, 54, from MACC's  Special Operations Division, who was the 57th prosecution witness said he had initially told former SRC board chairman Tan Sri Ismee Ismail  to get the original  minutes of the meetings.
"However, he also did not have the originals, the reason being that the minutes of the meetings were recorded by Terence Geh, a former SRC company director who had also fled overseas.
"I also contacted (SRC secretary) Chee Suwen but he told me he was no longer the SRC secretary. My efforts failed, checks at SRC were also futile," said Rosli, who was the investigating officer when the case was investigated in 2015.
Najib, 66, is facing three counts of criminal breach of trust, one count of abusing his position and three counts of money laundering involving SRC funds amounting to RM42 million.
The hearing before Justice  Mohd Nazlan Mohd Ghazali continues on Tuesday at 2 pm.
— BERNAMA