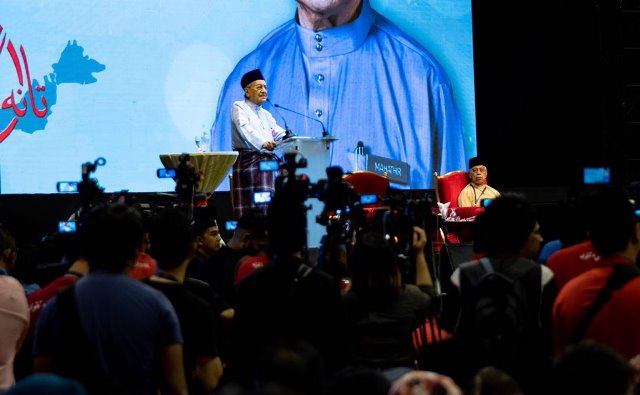 SHAH ALAM — Prime Minister Tun Dr Mahathir Mohamad said the land of Kampung Baru, Kuala Lumpur will be sold to a government agency to be developed, not to other parties.
He said that the government agency would help land owners to develop Kampung Baru without neglecting the original features of the location.
"Previously, the land plots in Kampung Baru were under the Malay agricultural reserve land status. Now, the landowners cannot farm there, they can only do business there, but, they do not have enough money to develop the land. We can see old houses with rusty zinc roofs there, it is an eyesore in the middle of the rapidly developing Kuala Lumpur which is full of sky scrapers. This does not reflect on the position of the Malays, who are actually as successful as other people,"  he said to a media conference after delivering his speech at the Malay Dignity Congress here today.
Last Tuesday, Federal Territories Minister Khalid Abdul Samad was reported to have said that the Kampong Baru Development Corporation (PKB) had received some 700 to 800 forms from residents of the area regarding the redevelopment plan.
Khalid said that some 90 per cent landowners agreed with the offer of RM850 per square foot from the government.
Commenting on the organisation of the congress which some parties claimed to be politically and racially motivated, Dr Mahathir it should not be perceived as such, as it also involved other parties such as non-governmental bodies and higher learning institutes.
"They came in the capacity of being Malay, they want to know what happened to the dignity of the Malays and how to restore it. Those (Malay political party leaders) who attended had set aside their political beliefs since they felt responsible towards the restoration of the Malay dignity. We are talking about the Malays, their position in the social, economy and political context. (We need to see) Where the mistake was that made them get left behind in their own country,"  he said.
Asked whether the five resolutions pertaining to the economic, cultural, political, religious and educational aspects of the Malays presented at the congress would be considered by the government, Dr Mahathir said it would be reviewed as it reflected the 'feelings' of the Malays.
"It is very clear that the Malays are very concerned about their future. The government will see to this but the Malays should play their part in restoring the dignity of the people," he said.
— BERNAMA