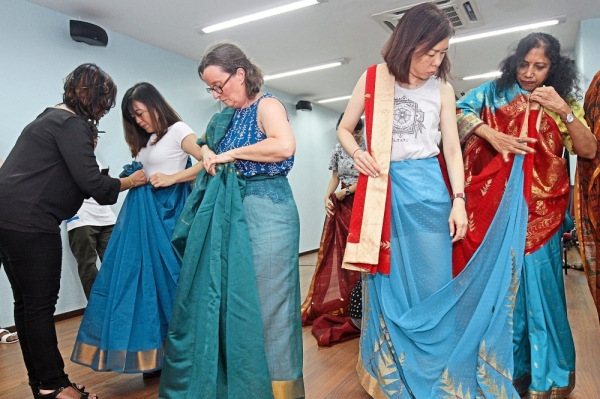 PETALING JAYA: Whenever Chai Yen Lin sees a saree-clad woman, she would imagine herself in the traditional Indian costume.
The 41-year-old housewife has always been attracted to the beauty and uniqueness of the woven fabrics that are used to make the sarees, which come in vibrant colours and varied designs.
A few years back, Chai bought a saree from an online retailer in the hope that she could wear it when attending the wedding of one of her Indian friends or a Deepavali open house.
However, it remained unused in her wardrobe as Chai simply could not master the art of tying the saree despite repeatedly watching 'how-to-tie-a-saree' tutorials on YouTube.
Recently, she had the chance to finally learn to drape a saree at the 'Deepavali Saree Workshop' organised by the Kampung Tunku Service Centre's Women Empowerment Centre (WEC) here.
The free workshop, held in conjunction with Deepavali which falls on Oct 27, attracted 26 participants from multiracial backgrounds.
DIFFERENT TYPES OF SAREES
Besides conducting saree-wearing demonstrations, the instructor Roova Li Juan also shared tips on how to look more elegant in the traditional ensemble.
"The original style of draping the saree has remained popular although fashions trends have changed over the years.
"In Malaysia, the traditional saree is not only a favourite among Indian women but it is also liked by hijab-wearing Muslim women," Roova, who is of Indian-Chinese parentage, told Bernama.
Due to the perception that wearing a standard five- or six-metre long saree is a complicated and complex affair, "instant" sarees have emerged in the market which, according to Roova, are not all that comfortable to wear.
"Actually it is easy to drape a saree if you get the technique right," she added.
In India, each state has its own selection of sarees in different types of fabrics. The more famous ones are Kanjeevaram silk saree from Tamil Nadu, Kalamkari from Andhra Pradesh, Kasavu from Kerala, Sambalpuri from Odisha, Paithani from Maharashtra, Bandhani from Gujerat and Muga from Assam.
"Most of the sarees available in Malaysia are made of cotton and silk fabrics which are suited to our climate," said Roova.
The saree is worn with a tight-fitting blouse, also known as choli in Hindi or ravukai in Tamil, and a petticoat.
SAREE-WEARING TIPS
Roova advises saree-wearers to wear a cotton petticoat which should be fastened firmly at the waistband so that the saree — which is wrapped around the petticoat — folds remain intact.
"The pallu (which refers to the end of the saree that is pleated and set on the left shoulder) should not be too long or short… it should fall just below the knee.
"And, if you are wearing high-heeled footwear, wear them first before tying the saree to ensure that your ankles cannot be seen. As for the pleats on your midriff, five to seven pleats will do," she explained.
Pointing out that there are various creative ways to drape the saree, she said some non-Indian women use saree fabrics to stitch baju kebaya or baju kurung.
Meanwhile, WEC supervisor Nalina Nair said this is the second consecutive year the saree workshop was being conducted and that it received encouraging response from non-Indian women who lived in that area.
"We even have Muslim women attending this workshop, which is not only a platform to introduce Indian traditional wear but also to bridge the gap between the races," she said
She said the centre also holds self-defence classes, cancer awareness campaigns, health screenings and entrepreneurial seminars for women.
— BERNAMA