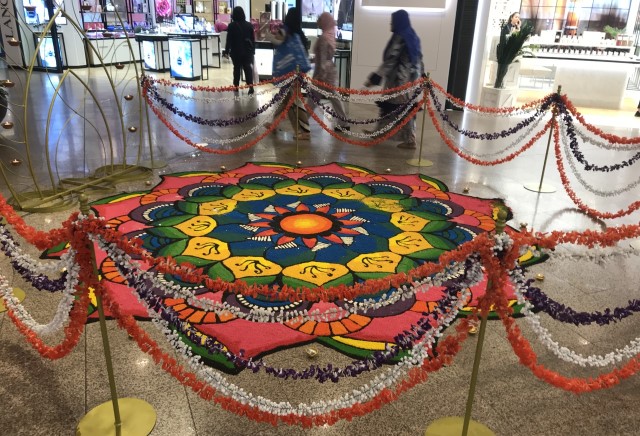 KUALA LUMPUR — Malaysians of the Hindu faith today celebrated Deepavali, also known as the Festival of Lights, that signifies the triumph of good over evil, on a moderate scale but in a joyful mood.
They took advantage of the fine weather in the morning to perform the religious rituals at temples before visiting their relatives and friends and holding "open house" for guests.
In SEREMBAN, about 1,000 people of various races attended the Deepavali open house hosted by Minister in the Prime Minister's Department P. Waytha Moorthy at the Seremban Municipal Council (MPS) hall here.
Orphans, senior citizens and the disabled, including from Vivekananda Home Rembau, Sri Raghavendra Welfare Association and Vinashini Welfare Association were also feted at the event.
Guests were also entertained to traditional dances and songs by local artistes.
In SHAH ALAM, many devotees gathered since early morning at the Sri Maha Mariamman Temple in Section 7 here and Sri Nagara Thendayuthapani Temple in Klang.
For T.Kumar, 38, he and his family members would go to the temple in the morning before visiting friends and relatives later in the afternoon.
In IPOH, Hindus who visited Kallumalai Arulmigu Sri Subramaniar Temple in Gunung Cheroh were wearing new and colourful clothes and bringing fruits and flowers for offerings.
Perak Menteri Besar Datuk Seri Ahmad Faizal Azumu in his Facebook page said he hoped that the Festival of Lights would bring happiness and prosperity to all Hindus.
State-level Deepavali open houses have been held in 10 districts from Oct 19 to Nov 11 with Bidor in Batang Padang district as the first location.
In KOTA KINABALU, about 1,000 people of all walks of life took advantage of the good weather in the morning to attend the Deepavali open house hosted by Sri Pasupathinath Alayam Temple in Bukit Padang, near here.
Temple president Brig. Gen. Datuk A. Arulpragasam said such celebration could provide a golden opportunity for ties between ethnic groups to be strengthened.
Meanwhile, in KOTA BHARU, rain did not prevent about 7,000 Hindus in the state from celebrating the festival.
Kelantan Indian Physical and Cultural Association president  Gandhiraja Perumal said all Deepavali preparations, including clothes, cakes and house decorations, were usually carried out by family members one week before the festival.
Meanwhile, in GEORGE TOWN, Penang Deputy Chief Minister II P. Ramasamy hosted a Deepavali open house at his residence in Simpang Ampat here from 11 am to 2 pm.
Guests helped themselves to an assortment of food including tosei, apam lenggang, nasi kandar and muruku.
Ramasamy said open house was a unique tradition that gathered people of all the races and reflected the unity of Malaysians.
— BERNAMA