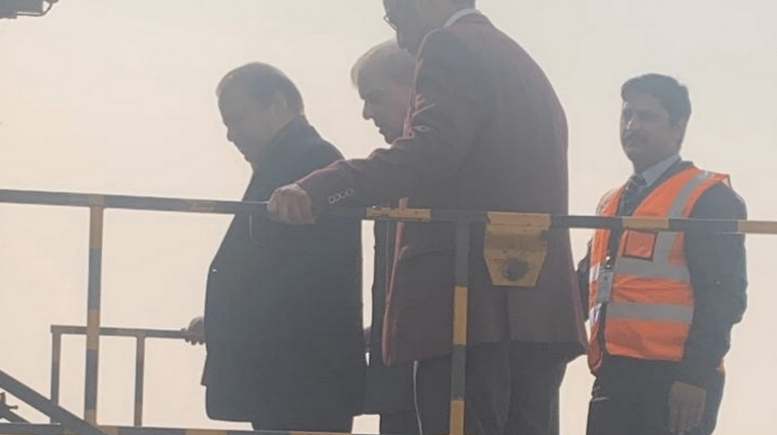 ISLAMABAD: Pakistani former Prime Minister Nawaz Sharif, who doctors said is seriously sick, was flown out of Pakistan for treatment abroad in an air ambulance on Tuesday, Xinhua news agency reported, quoting party leaders and officials.
Spokesperson for Sharif's Pakistan Muslim League-Nawaz (PML-N) Maryam Aurangzeb confirmed Sharif has left for London where he will get treatment and that he could also proceed to the United States for more treatment.
A Pakistani court on Saturday allowed Sharif to go abroad for treatment for a month.
Several senior PML-N leaders were at the airport to see him off, Aurangzeb said, adding that Sharif has handed over party affairs to other leaders. Scores of PML-N supporters gathered outside.
Sharif, the three-time prime minister, is presently serving a seven-year jail term over corruption charges.
The Islamabad High Court last month suspended the sentence of the former prime minister for eight weeks on health issues. However, Sharif could not proceed abroad as his name was on a list, those listed could not go abroad without the government's permission.
The Lahore High Court later permitted him to go abroad but he will return after a month to complete his jail sentence.
The government of Prime Minister Imran Khan had attached certain conditions to Sharif's going abroad, however, the PML-N party had rejected the conditions.
Shehbaz Sharif, younger brother of Nawaz Sharif, had approached the Lahore High Court against the conditions. Shehbaz is accompanying his brother in the air ambulance.
A two-member bench of the Lahore High Court ruled that time period of Sharif's treatment abroad could be extended on the basis of the medical reports.
The bench also ordered the government to remove Sharif's name from the Exit Control List.
The court had ruled that Shehbaz will ensure that his brother will return to the country in accordance with the ruling, adding that it would be violation of the undertaking if Sharif did not return to the country.
— BERNAMA