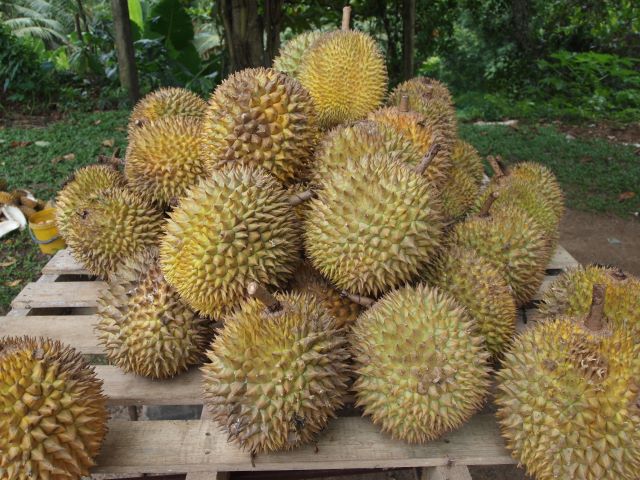 BALIK PULAU — The Penang Island City Council (MBPP) has allocated 254 stalls in nine wet markets on the island to sell durians as under the Movement Control Order (MCO) people are not allowed to go to farms in Balik Pulau, Teluk Bahang, Gertak Sanggul or Batu Maung to buy the fruit.
MBPP Mayor Datuk Yew Tung Seang said there are about 200 durian farms on the island and six major wholesalers, and they have been allowed to sell online as well and deliver the fruit to their customers, with 20 sellers already conducting sales online through various social media platforms.
"All they need to do is apply for the stalls under Business From Farm (BFF) initiative with us and they will be allowed to market their fruits in the market in accordance with the operating hours of the market during MCO. The rental for each stall will be RM7 daily and RM200 per month for rubbish collection, electricity and water bills," he told reporters after visiting Karuna Hill, an organic durian orchard here today.
He added that the registration for market stalls under MBPP will be open from noon today until noon on April 28, and if the MBPP receives more than 254 applications, balloting will be held to determine who gets the stalls.
Meanwhile, Karuna Hill owner Carl Michael Valenti said he does not plan to sell his durians online, as it would require him to deliver from farm to the buyers.
He said his orchard has over 200 trees which usually produce about 8,000 durians during harvest, and for the time being the fruits would be handed over to wholesalers here to be distributed to sellers.
The durian season in Balik Pulau usually begins in May and will last about three months, with sellers now looking for alternative ways to market and sell the fruits due to the MCO, which is scheduled to end on April 28
— BERNAMA