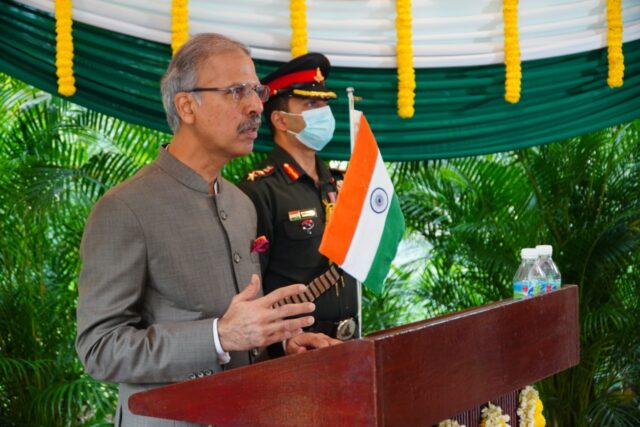 Mridul Kumar, Indian High Commissioner
Full text of speech delivered by His Excellency Shri Mridul Kumar, India's High Commissioner to Malaysia, at the 72nd Indian Republic Day of India Virtual Reception celebrations held on 26 January 2021
My dear brothers and sisters, Selamat petang,
Good evening,
A warm welcome to all at this virtual reception to mark the 72nd Republic Day of India!
Today marks an important day in our nation's history. It was on this day in 1950 that our Constitution came into force making India a Republic.
Our Constitution was adopted on 26 November 1949, which we observe as the Constitution Day. We had in 2019 special celebration at our Cultural Centre in Kuala Lumpur to commemorate this Day.
Today every year, we reaffirm our abiding faith in our Constitution to guide us firmly on the path of nation-building.
Friends, India and Malaysia share a deep, timeless bond, rooted in people to people linkages. This eternal bond of friendship goes far beyond the establishment of our diplomatic ties in 1957.
The Bujang valley remains in Kedah remind us of the intrinsic links India had with the Malayan Peninsula.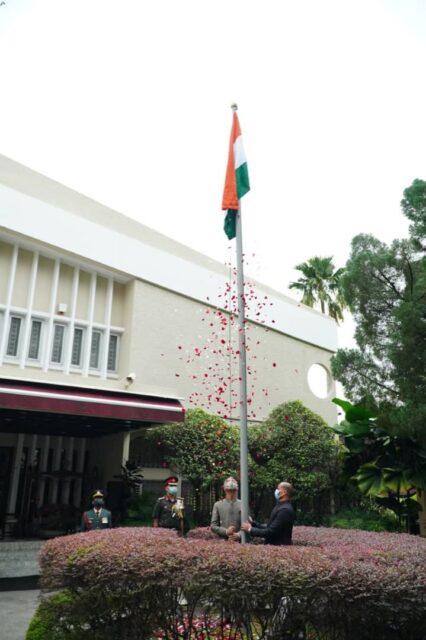 The spice trade brought us together. With the passage of time, our bonds grew organically and intertwined, as can be seen in the cuisine, language and culture here, to name a few.
This millennia-old diffusion of Indian and Malay cultures defines our modern day ties. The 2.7 million strong Indian diaspora here forms the bedrock of our mutually beneficial engagement today.
Earlier this month, Government of India organised virtually the 16th Pravasi Bhartiya Divas Convention, a flagship event to engage and connect with our vibrant diaspora and to celebrate their achievements. Malaysia was well represented in this event.
Friends,
For us at the High Commission, year 2020 was one of non-stop action and activities. In the time of Covid pandemic, we maintained regular political dialogues and exchanges on virtual platform.
In the spirit of our long standing friendship, our two countries worked closely together to assist each others' citizens in distress in pandemic times. I am happy to share that Malaysia was among the first set of ten countries to be included in the Vande Bharat Mission, the largest repatriation exercise ever carried out by the Indian Government. Till date, 166 flights have operated from Malaysia to various destinations in India.
I would like to sincerely thank the Malaysian government, in particular Hon. PM Tan Sri Muhyiddin Yassin, Foreign Minister Dato' Seri Hishammuddin Hussein and Defence Minister Dato' Sri Ismail Sabri. Thanks are also due to all Malaysian officials from concerned Ministries for their kind and continued support towards this repatriation exercise. As a reliable friend, India also facilitated the operation of 42 flights by the Malaysian side to enable over 4,700 Malaysians stranded in India to return home.
Friends, India reached out to Malaysia right from the early days of the pandemic, supplying medicines (Hydroxychloroquine and paracetamol) and other essential products to help our Malaysian brothers and sisters. We will continue with our collaboration in fighting the pandemic.
Friends, No reference to our bilateral ties is complete, without a mention of our trade and commerce engagement. In recent times, we have become each other's top trading partners globally.
Despite COVID pandemic, in the first nine months of 2020, our exports to Malaysia increased by 6.5% to US$ 4.6 billion as compared to the same period in 2019. Our imports from Malaysia during this period reached US$ 5 billion.
Friends, as we celebrate our 72nd Republic Day, we pay rich tributes to the framers of our Constitution whose vision created India as we see today.
A country of 1.3 billion people and even greater number of opinions and voices, India remains a shining example of unity in diversity.
Friends, may I conclude by thanking my High Commission team for their efforts in successfully putting together today's virtual celebrations. I also would like to thank our partner institutions and organisations for their wholehearted support. I again thank you all for joining us today.
Saya ucapkan terima kasih kepada tetamu-tetamu sekalian kerana menyertai majlis kami pada hari ini. Sekian, Terima Kasih
Dhanyawad. Jai Hind!