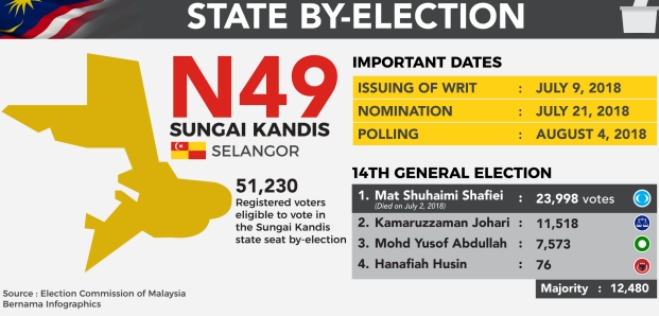 PUTRAJAYA – The Sungai Kandis state by-election will be on Aug 4, said Election Commission (EC) deputy chairman Tan Sri Othman Mahmood.
He said the nomination day would be on July 21 and the campaign period is 14 days.
"The electoral roll to be used for this by-election is the first quarter of 2018 which is updated until July 2, 2018. The electoral roll contains 51,230 registered voters comprising 51,217 ordinary voters and 13 overseas voters," he said at a media conference after a special meeting on the Sungai Kandis by-election at the EC headquarters here today.
He said there were no early voters in the Sungai Kandis by-election while the overseas and domestic postal voting applications would be opened from today and closes on July 21.
The Tanjung Hall of the Shah Alam City Council would be used as the nomination centre and the official vote tallying centre, he said.
Shah Alam mayor Datuk  Ahmad Zaharin Mohd Saad has been appointed as the Sungai Kandis by- election returning officer and he is assisted by three assistant returning officers and 865 personnel appointed from the public, he said.
He said it was estimated that the Sungai Kandis by-election involved an allocation of RM1.4 million.
The Sungai Kandis state seat was left vacant following the death of its incumbent Mat Shuhaimi Shafiei on July 2.
Mat Shuhaimi, 50, who was also the former political secretary to the Selangor Menteri Besar Datuk Seri Mohamed Azmin Ali, died at the Subang Jaya Medical Centre at about 11.10 am on Monday due to lymphoma cancer
Meanwhile Othman said the EC made several improvements in this by-election, including setting up two polling lanes for voters aged 60 and above and adding more polling lanes at polling centres that had many voters.
-Bernama