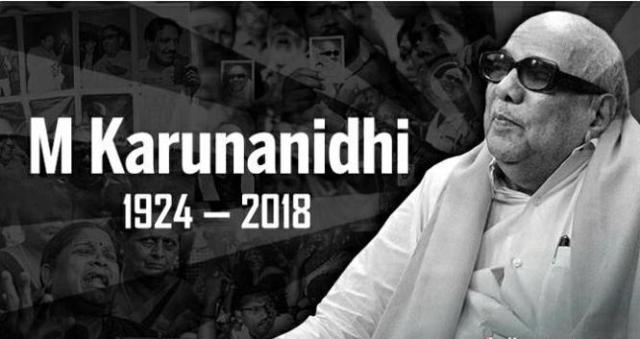 Chennai — Veteran Indian politician and former Tamil Nadu chief minister Muthuvel Karunanidhi, popularly known as "Kalaignar"  has died at the age of 95 in Chennai where he was admitted to a hospital after his health deteriorated.
Karunanidhi, who enjoyed a political career spanning seven decades, is survived by two wives and six children.
He was admitted to the hospital 11 days ago due to poor health and died on Tuesday at 6.10 pm (local time).
"Despite the best possible efforts by our team of doctors and nurses to resuscitate him, he failed to respond. We profoundly mourn the loss of one of the tallest leaders of India and we share the grief of family members and fellow Tamilians worldwide," a hospital press release said.
The Tamil Nadu government announced a seven-day mourning in the state.
The Central government of India announced one-day mourning and declared the Indian nation flag would fly half-mast across the nation.
Karunanidhi's Dravida Munnetra Kazhagam (DMK) is one of the two main political parties in Tamil Nadu along with the ruling All India Anna Dravida Munnetra Kazhagam (AIADMK).
Meanwhile a legal tussle is brewing with the Tamil Nadu government refusing to grant a space in Marina beach near Anna Memorial to be used as the burial and memorial ground for Karunanidhi. The DMK party has filed a legal suit in Chennai High Court with a certificate of urgency seeking a declaration that the Tamil Nadu government should allocate the land as requested.