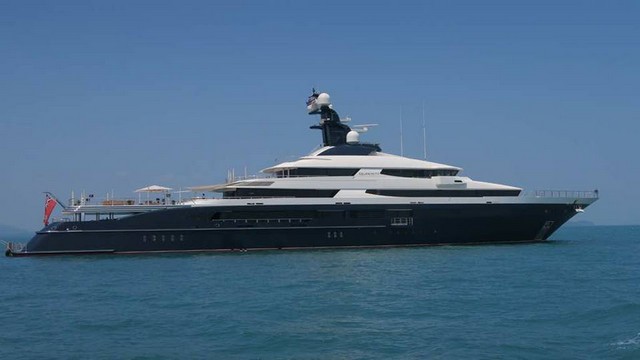 KUALA LUMPUR — The bidding for the luxury yacht 'Equanimity' belonging to  Low Taek Jho or better known Jho Low will begin on Monday and continue until Nov 28, said lawyer for 1Malaysia Development Berhad (1MDB), Ong Chee Kwan.
Ong said the Admiralty Court had also approved the bidding terms and condition requiring those interested in acquiring the Equanimity luxury vessel to pay a deposit of USD1 million (RM4.17 million).
"This is not an online bidding. Only qualified bidders can be included in the bidding list  and they must pay a deposit of USD1 million, to ensure only serious buyers are coming to bid," he said.
Ong who is also representing two 1MDB subsidiaries, 1MDB Energy Holdings Limited and 1MDB Global Investment Limited, said this to reporters after the case management proceeding in chambers before Judicial Commissioner of the High Court, Datuk Khadijah Idris here yesterday.
Ong added that qualified bidders will be given the opportunity to view the luxury yacht worth USD250 million (RM1.42 billion) and a date would be fixed for that purpose.
"They will have the offer form… indicate they will accept the conditions for the sale. The form will then be placed in a sealed envelope and sent to the Admiralty Court Sheriff," he said.
Ong said details on the bidding would be published in local and international newspapers either today or tomorrow and those interested may contact the central agent.
He said the successful bidder selected by the Court Sheriff  would be required to pay 10 per cent of the total price of the yacht while the remaining 90 per cent to be settled within 10 days.
On Oct 19, the High Court declared that the super yacht  Equanimity belonged to the Malaysian government with state fund 1Malaysia Development Berhad (1MDB) as the beneficiary owner, when its registered owner failed to appear in court to claim the vessel.
The court also ruled the two 1MDB companies namely 1MDB Energy Holdings Limited and 1MDB Global Investment Limited to be the legal and beneficial owner of the vessel hence, indirectly the Malaysian government is the beneficiary of both companies.
— BERNAMA