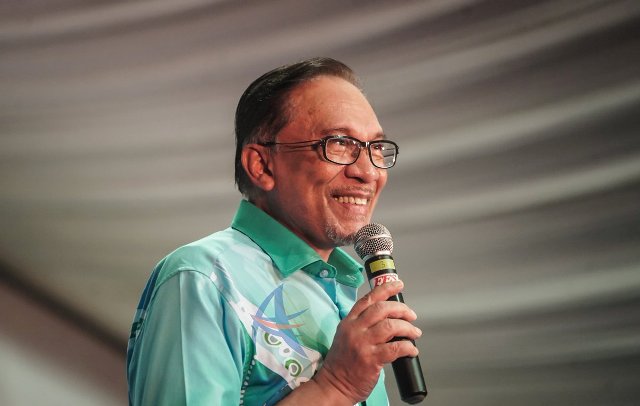 PORT DICKSON — PKR de facto leader Datuk Seri Anwar Ibrahim stressed that he could not interfere in matters on the party's election and had left it to the Party Election Committee (JPP) instead.
The MP for Port Dickson said many people had wanted him to get involved but the party had already made the decision that all matters relating to the party's election would be handled by JPP.
"Several quarters have urged me to interfere but I cannot. This is not understood even by the media. Apart ensuring the election is free from fraud and threats, I also told JPP to appoint people who are independent and clean," he said.
He was speaking to reporters after opening the Port Dickson Long Yi Cup Wushu Championship here today.
Anwar said even though he received information on several attempts to disrupt voting with faulty tablets, cyber attacks and so on, there was nothing he could do as they were all under the purview of JPP.
"I asked candidates to accept the results in good fate and if there are cases such as fraud, damaged tablets, threats…all can be brought to police, the Malaysian Anti-Corruption Commission (MACC) or the Malaysian Communications and Multimedia Commission (MCMC).
Anwar won the president's post uncontested in the current election, and the full results of the 2018 Keadilan Election may experience slight delay.
"But I do not think we will prolong it further as delaying the election process would raise further internal squabbles," he said.
Asked on the position of Datuk Seri Dr Wan Azizah Wan Ismail in the government as she was no longer holding any post in PKR, Anwar said it was not an issue.
"The matter does not arise as the earlier decision was that the Prime Minister would be Tun Dr Mahathir Mohamad and the Deputy Prime Minister would be Azizah. This is a decision made by Pakatan Harapan," he said.
Today seven PKR divisions which had problems during party election earlier held voting again and the affected areas are Kuala Selangor, Selangor; Jelebu, Negeri Sembilan; Alor Gajah, Masjid Tanah, Tangga Batu, Kota Melaka and Jasin in Melaka.
In the election, there were 76 post contested at central level and almost 10,212 posts were up for grab at division-level throughout the country.
— BERNAMA