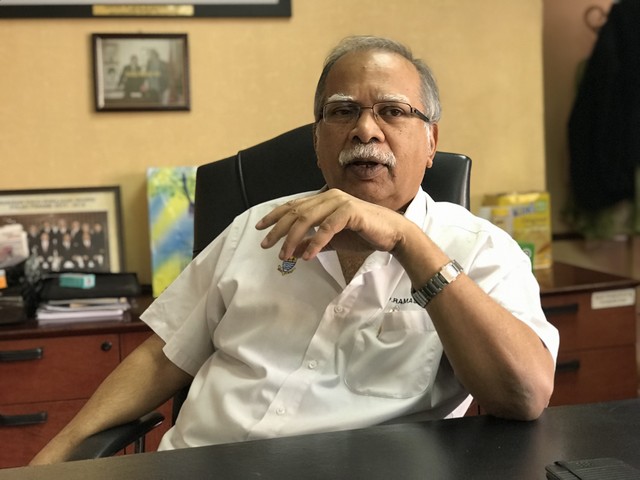 George Town – Penang's Deputy Chief Minister II Dr P.Ramasamy has criticised PAS President Hadi Awang for blaming DAP leaders and online portal Malaysiakini for the actions of Dr Zakir Naik.
The following is the full text of Ramasamy's posting on his facebook titled "Hadi wants to rescue Naik by blaming DAP and Malaysiakini":
"PAS President Abdul Hadi Awang seems to have misplaced priorities when comes to political analysis.
It is not who was responsible for politicisation of what Islamic preacher and fugitive Zakir Naik said and did not say in his speech in Kota Baru, Kelantan, a few weeks back.
What is important for Hadi is whether he approves of the incendiary speech of his new found favourite Islamic preacher Naik.
Is Hadi willing to say that was uttered by Naik was acceptable?
In other words is Hadi willing to endorse the statement of Naik that Hindus in the country are disloyal to Malaysia and Chinese as "old guests" in the country should leave the shores before Naik makes the departure?
Unlike Hadi, DAP politicians and Malaysiakini are not the ones who questioned the loyalty of the Hindus and Chinese.
It is not them who said that Hindus are loyal to the Modi government in India rather than the government of Prime Minister Mahathir Mohammed.
Furthermore it is not they who asked the Chinese to move out of Malaysia.
Yes, some DAP politicians like myself and others have taken Naik to task for having questioned the loyalty of Hindus and Chinese.
Some of us might have taken a further step in requesting for the deportation of Naik to face charges in India.
Politicians in other PH component parties have asked for removal of Naik following his disastrous speech in Kelantan?
Either Hadi is suffering from amnesia or deliberately wants to leave out the individuals from these parties.
For Hadi, the source of evil in this country is the DAP. DAP is the bogeyman for PAS.
If anything goes wrong in the country, for Hadi it must be the work of DAP.
Such is the hatred of Hadi towards the DAP that he forgets all his pretensions about being a religious scholar or ulama.
It is not Malaysiakini alone that reported news and carried opinion pieces on Naik's preposterous speech in Kelantan.
So many other publications in Malaysia and abroad carried news of Naik's interference in Malaysian domestic politics.
Why did Hadi omit to mention these publications?
Does he have an axe to grind with Malaysiakini?
The whole Kelantan episode could have been avoided had Hadi advised Naik not to touch on matters of domestic politics.
Hadi has share of the mess that Naik is in.
He cannot turn around to say that he was not responsible for Naik's event in the state that his party administers.
Hadi by blaming the DAP and Malaysiakini hopes to divert public attention away from Naik.
This is easier said than done."