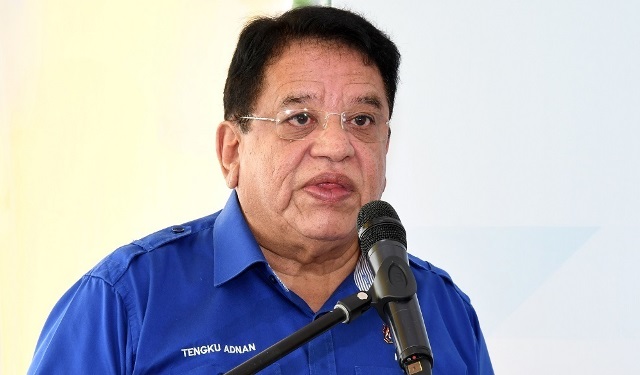 KUALA LUMPUR — Former Federal Territories Minister Datuk Seri Tengku Adnan Tengku Mansor told the High Court today that he sold most of his companies worth hundreds of millions of ringgit to become a 'debt-free' minister.
Tengku Adnan, 69, said he told then Prime Minister Tun Dr Mahathir Mohamad that he was working for several companies and agreed to sell several of them before becoming a full minister.
"Among the companies that I sold was Mutiara Telekom (Digi) and only kept marginal shares in several other companies such as Hyundai-Sime Darby and Tadmansori Holdings Sdn Bhd.
"Your honour, if I kept Digi today, it is worth RM5 billion…I sold it for RM480 million at that time," he said during a re-examination by his lawyer Datuk Tan Hock Chuan in his defence at his RM2-million graft trial.
The Putrajaya MP was clarifying why he disagreed with Deputy Public Prosecutor Julia Ibrahim's suggestion earlier that he had failed to comply with the code of conduct for members of the administration due to his continued ownership of a majority stake in Tadmansori Holdings.
The Putrajaya MP was appointed deputy minister in the Prime Minister's Department on Sept 29, 2001 and minister in the Prime Minister's Department on Nov 20, 2002.
Yesterday, Tengku Adnan confirmed that he had declared his assets during his tenure in the Cabinet since 2001, to three prime ministers, namely Dr Mahathir, Tun Abdullah Ahmad Badawi and Datuk Seri Najib Tun Razak.
He also confirmed that he had declared his assets amounting to RM938,643,566.16 to Dr Mahathir in 2001, along with RM711,325,822.00 to Abdullah in 2006, and RM691,770,649.00 and RM782,748,061.00 to Najib, in 2013 and 2016 respectively.
Earlier, Tengku Adnan disagreed with Julia's suggestion that a receipt issued from UMNO's receipt book for an alleged RM2-million political donation from businessman Tan Sri Chai Kin Kong was forged after he was arrested in 2018.
The former minister said he had signed a receipt with the serial number 376241 dated June 14, 2016 for the RM2-million cheque to Chai, and he confirmed that this receipt was prepared by UMNO staff on his instruction.
On Oct 14 last year, the High Court ordered Tengku Adnan to enter his defence, after finding that the prosecution had established a prima facie case against him.
Tengku Adnan, 69, was charged in his capacity as a public servant then, namely as Federal Territories Minister, with having accepted for himself RM2 million from Chai via a Hong Leong Islamic Bank cheque belonging to Aset Kayamas Sdn Bhd which was later deposited into the CIMB Bank account of Tadmansori Holdings in which he had an interest when it was known that Aset Kayamas had a connection with his official duties.
He is alleged to have committed the offence at the Pusat Bandar Damansara branch of CIMB Bank Berhad here on June 14, 2016.
The former minister was charged under Section 165 of the Penal Code, which carries a penalty of imprisonment of up to two years or a fine, or both, if convicted.
Hearing before judge Mohamed Zaini Mazlan continues March 25.
— BERNAMA