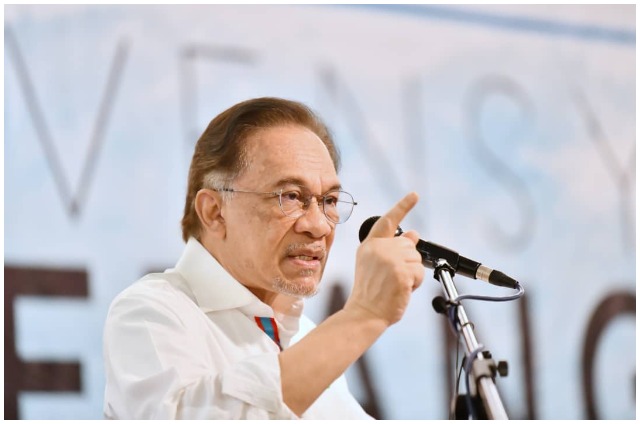 Kuala Lumpur : PKR President and opposition leader Datuk Seri Anwar has strongly criticised the comments on Bible by Pasir Puteh MP from PAS Nik Muhammad Zawawi.
Anwar posted his media statement on his facebook page titled "RELIGIOUS BIGOTRY MUST NOT BE TOLERATED".
The following is the full text of the statement:
"I strongly oppose racism and religious bigotry that continues to plague our political discourse and sow discord among Malaysians.

Pasir Puteh MP Nik Muhammad Zawawi Salleh's commentary on the Bible is insensitive and reflects a poor understanding of Islamic teachings on using wisdom in our discourse with members of other faith communities.

When we initiate sincere dialogue between Muslims and Christians, these discussions should be based on a spirit of brotherhood encapsulated in the Quranic verse "Oh People of the Book, come to a Common Word between us and you" (Ali 'Imran :64)– which is to say the common bond of worshiping God.
Furthermore, if the intention is to invite people to a deeper understanding of the teachings of Islam, it is imperative to use "wisdom and kind advice" (An-Nahl: 125), which means mutual respect is imperative.

If our words lead to acrimony and deeper misunderstanding then we must express the humility to acknowledge the possibility of a mistake in the approach. We can be a force for healing in our divided nation by reflecting the Prophetic example which sought to build love and compassion among neighbours irrespective of faith,and which the Prophet Muhammad manifested by his words and more profoundly by his deeds.

The Prime Minister, who in his Merdeka address said, "United and with determination and in high spirits, let's continue defending the independence of the country", should demonstrate his commitment to upholding national unity and rejecting religious bigotry.

The Quran exhorts Muslims 'fa yusari'una fil khayrat' which means hasten to do good deeds. My advice to fellow Muslims serving in public office is to hasten to eradicating poverty, inequality and economic injustice in our society – these are the good deeds which we have been entrusted by voters to carry out.

Malaysians realise that overcoming the challenges we face as a nation —joblessness, a stagnant economy, declining educational standards, corruption, religious bigotry —depends on our ability to make real the principles of fairness, justice and compassion for all. No one is above the law and justice must be meted out fairly.