NEW DELHI — India has built the world's tallest statue, twice the height of New York's Statue of Liberty, to honour Sardar Vallabhbhai Patel, one of the country's founding fathers.
Patel is known as the "Iron Man of India", like the 19th-century "Iron Chancellor" Otto von Bismarck of the German empire, and credited with uniting some 550 princely states when India gained independence from Britain in 1947.
A website dedicated to the "Statue of Unity" project noted that the memorial "will be cherished for centuries by the whole world and it will become a matter of pride for every Indian."
Prime Minister Narendra Modi unveiled the 182-metre statue on Wednesday in the western state of Gujarat on Patel's 143rd birth anniversary and described it as the expression of confidence of a new India.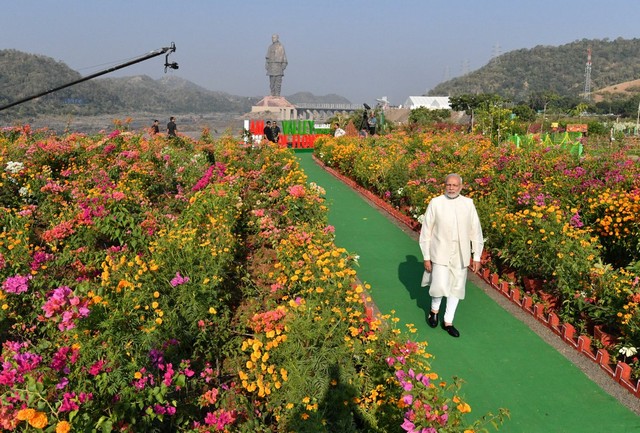 Born in Gujarat, Patel was a key figure in India's freedom movement led by Mahatma Gandhi, who also hailed from the same state.
It was in 2013 when Modi as Gujarat's chief minister launched the project at an estimated cost of $340 million.
The statue has not been without controversies, including the involvement of many Chinese workers in what's touted as a "nationalist" project.
Its exorbitant cost in a region where millions live in extreme poverty and the ideological ambition raised eyebrows.            Patel served as home minister under India's first prime minister Jawaharlal Nehru.
The Hindu nationalist Bharatiya Janata Party (BJP) uses his legacy to undercut the achievements of India's most famous Nehru-Gandhi political family.
"Every Indian regrets Sardar Patel did not become the first prime minister. Had he been the first prime minister, the country's fate and face would have been completely different," Modi has said in the past.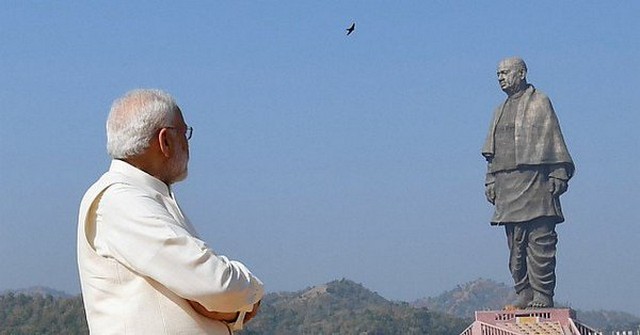 According to local media reports, the statue's core is made of thousands of tonnes of reinforced concrete and its surface is covered with 553 bronze panels imported from China.
The Chinese involvement in the project has invited "Made in China" ridicule from the opposition Congress party.
A Congress leader recently circulated videos of foreign workers on the construction site.
Indian engineering and construction giant L&T won the contract in December 2014 to finish the work within 42 months.
About 3,400 labourers and 250 engineers worked on the site, Indian media reported.
Building statues to honour their icons is common for political parties in India, with the country's landscape dotted with memorials dedicated to politicians, religious figures and other heroes.
Most of such projects involve state funding and political patronage.
The Statue of Unity on a river island in the Narmada district is significantly taller than many famous statues such as the 153-metre Spring Temple Buddha in China, the 120-metre Ushiku Daibutsu in Japan and the 93-metre Statue of Liberty in the United States.
Gujarat expects the memorial, which includes a museum and a hotel, to attract more than five million visitors annually.
— BERNAMA