(By Manik Mehta)

WASHINGTON DC — The "latest casualty" in the Trump's administration's long list of resignations and firings, as the frenzied domestic media is calling the announcement on Thursday of the resignation of U.S. Defence Secretary Jim Mattis (pic), was expected by some analysts particularly after disagreement between him and President Donald Trump surfaced over the latter's decision to withdraw U.S. troops from Syria.
Military strategists have been calling Trump's decision "hasty" and "reckless", and say it creates a vacuum in Syria that could be dangerous for political stability.
Mattis' resignation announcement came after he met with the President.
Meanwhile, the Pentagon publicly released the resignation letter written by Mattis to the President, saying that "because you have a right to a Secretary of Defence whose views are better aligned with yours on these and other subjects, I believe it is right for me to step down from my position".
Mattis was known to have had differences with Trump for a long time on major foreign policy and defence issues and had opposed U.S. withdrawal from Syria.  Trump had announced a day earlier – on Wednesday – U.S. troop withdrawal, the final straw that drove Mattis to announce his intention to resign.
Indeed, on Thursday, officials said that the President was even considering to withdraw a large part of U.S. forces from Afghanistan after a 17-year long presence.
Mattis is also known to have been against the treatment Trump meted to U.S. allies and friends who often privately complained about the lack of respect they received from the U.S. President.
In his typical fashion, Trump took to Twitter to announce Mattis' resignation, adding that a successor would soon be named for Mattis.  "General Jim Mattis will be retiring, with distinction, at the end of February, after having served my Administration as Secretary of Defence for the past two years," Trump said.
With Mattis' departure, experts put President Trump's staff turnover rate as the highest of the last five Presidencies. A few days before Mattis' resignation announcement, the axe fell on Interior Secretary Ryan Zinke who leaves end December.
There is a consensus among U.S. experts that Trump's administration since assuming office in January 2017 has been characterized by a high attrition rate, with leading staff leaving either on their own or being forced to leave.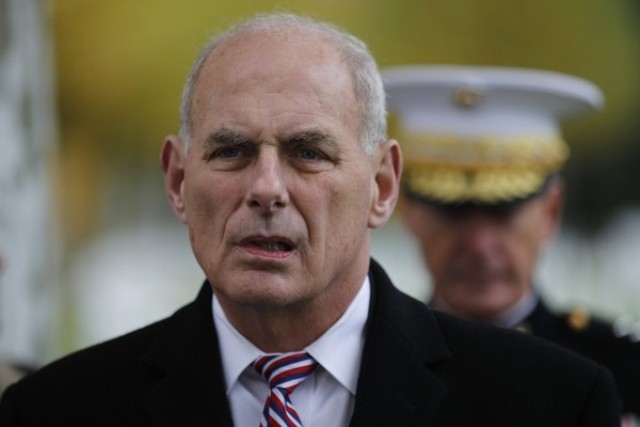 John Kelly (pic), a retired marine corps general, was appointed White House chief of staff but he developed differences with Trump who announced, finally, on Dec 8 that Kelly was vacating his chair end 2018.
Matthew Whitaker, the acting attorney general appointed only in November, is also leaving, according to Trump who nominated William Bart to take up the attorney general's job.  Bart's nomination will require Senate confirmation.  Whitaker stood in for Jeff Sessions who faced the ignominy of personal attacks by President Trump for not stopping the investigation by special counsel Robert Mueller into Russian interference and collusion with the Trump camp in the 2016 presidential election; Sessions was fired in early November.
But, perhaps, the most conspicuous departure from the Trump administration is that of the high-profile US ambassador to the United Nations, Nikki Haley, who forcefully represented the US at the world body and won plaudits, including from many foreign ambassadors who were not happy with the positions Trump took on several international issues.
Haley, who announced her resignation on October 9 and will leave end December, is being replaced by the spokesperson of the Department of State, Heather Nauert, who will need to be confirmed by the Senate.
Don McGahn, the White House counsel, was replaced following differences with Trump over the Mueller investigation, while Scott Pruitt, who headed the Environmental Protection (EPA), left on July 5 following a number of so-called "ethical questions".
Other prominent departures were those of H.R. McMaster who was replaced by John Bolton as the national security advisor, while Andrew McCabe, the deputy FBI director, was fired by Sessions.
Rex Tillerson (pic), the secretary of state, was removed from office in March after major differences with Trump; Tillerson was replaced by Mike Pompeo.  Others to leave office in 2018 included Gary Cohn, director of the National Economic Council, Hope Hicks, the White House communications director, and Rob Porter, White House staff secretary.
Though the above changes took place in 2018, 2017 was also marred by a high turnover of Trump officials.  Omarosa Manigault Newman, a former reality TV star, was removed from office as assistant to the president in December.
Richard Cordray resigned as CFPB director; Tom Price, the health and human services secretary was forced to resign over his travels, while Stephen Bannon, Trump's chief strategist, was removed from office after his confrontation with a moderate section of the White House officials.  Anthony Scaramucci, the White House communications director, lasted only 10 days in the Trump administration.
Reince Priebus, chief of staff, was replaced by Kelly who himself is leaving by year end.  Sean Spicer, the White House press secretary, resigned in July 2017 after a rather tense term in office.  James Comey, the FBI director, who led the Russia investigation before Mueller, was fired in May 2017.
— BERNAMA