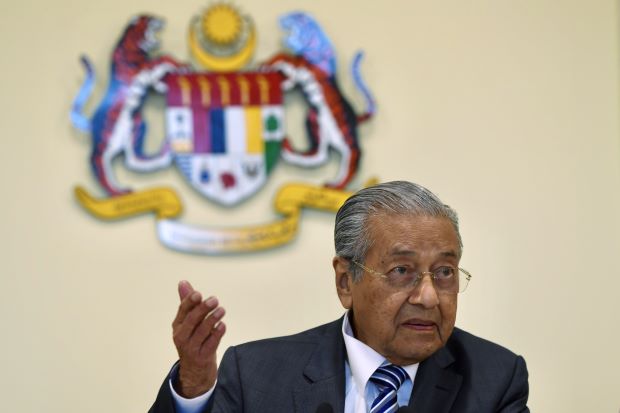 PUTRAJAYA — Dr Mahathir Mohamad said the appointment of Latheefa Beebi Koya as the new Chief Commissioner of the Malaysian Anti-Corruption Commission (MACC) was made based on his decision alone.
"I did not discuss with the Cabinet. Normally, I make (such) decisions myself because I don't have to ask the Cabinet as to whom I approved," he told reporters at the Hari Raya open house of the Prime Minister and Cabinet at the Seri Perdana Complex here today.
He was asked to comment on the appointment of Latheefa, who was executive director of the Lawyers for Liberty, effective June 1 to replace Datuk Seri Mohd Shukri Abdull.
The Yang di-Pertuan Agong has consented to Shukri's application to shorten his service contract which was supposed to end on May 17, 2020.
However, Dr Mahathir said he had listened to the views of various parties and assessed them before making the decision.
"I didn't have to ask the Cabinet; I asked other people who know about the character of this person and there was no need for the Cabinet to decide, (because) if the Cabinet makes a decision it restricts me. So in this I was free to evaluate whoever was proposed and I picked," he said.
Asked why Latheefa was picked, he said : "Because she is very strict; she sees what is the truth…we need somebody who has a strong character," he said.
When pointed out that the appointment seemingly contradicted Pakatan Harapan's 14th general election manifesto promise to refer such key appointments to Parliament, Dr Mahathir said this was not fair to those who were qualified.
"During the time we tried to win our election, these people worked very hard to ensure our win but our manifesto says people who worked for us cannot hold any post, that's not fair.
"Of course we don't make them heads of department or companies; we make them members of the board but in certain cases if they have the right quality we will appoint even those who are in politics," he said.
Dr Mahathir said the top post in a government agency is not a monopoly and there is no guarantee that only the number two or three should be appointed to take over from the number one.
"Well, sometimes we choose people from outside…We have a right to approve anybody who we think fit," he said.
Dr Mahathir said Shukri had told him of his intention to resign last year.
"So I took time to find a replacement. He said he has been too long in the place," Dr Mahathir said.
Asked why many ministers were reportedly surprised by the appointment, he jokingly said, "Sometimes it happens."
"For example DAP proposed me as prime minister, that was a surprise even for me; sometimes we get surprises.
"They (Cabinet ministers) cannot be complacent and think that whatever they think will be approved," he added.
— BERNAMA