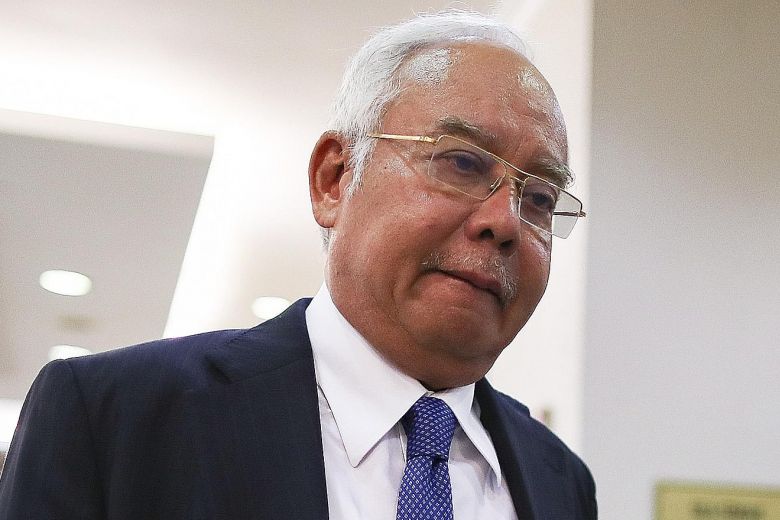 KUALA LUMPUR – Former prime minister Datuk Seri Najib Tun Razak told the High Court here today that he was "not so stupid" to keep former SRC International Sdn Bhd chief executive officer (CEO), Nik Faisal Ariff Kamil around just because the latter facilitated money movements into his personal bank accounts.
"I can't be so stupid (laughs)…Come on," the 67-year-old Najib quipped.
In response to this, lead prosecutor Datuk V. Sithambaram told the court that he had seen many "very intelligent" people ending up in court in his 42 years of experience.
"I was not aware of what happened. I am saying I am not stupid to do something like that," Najib added.
Najib said it was only after he was alerted by  former SRC International board of directors' chairman, Tan Sri Ismee Ismail about Nik Faisal's  integrity in managing the company that he (Najib) removed Nik Faisal as the CEO in 2014.
Further questioned by Sithambaram, Najib said that despite knowing Nik Faisal's lack of integrity, he maintained Nik Faisal as the mandate holder of his personal accounts  and a member of the SRC board of directors.
Prior to this, Najib told the court that he maintained Nik Faisal as a member of SRC International board of directors, despite removing him as the CEO amid complaints of financial mismanagement, to facilitate the repatriation of SRC funds that were frozen by the Swiss authorities as he wanted "continuity".
"I kept Nik Faisal to manage my accounts as the issue of his integrity was only brought to my attention later on.
"The bank also did not alert me regarding any untoward event in my accounts when it was under Nik Faisal's management," the Pekan MP said.
Earlier, Sithambaram suggested to Najib that he knew what was going on as the bank statements, which showed the money trails from SRC's subsidiary Gandingan Menteri Sdn Bhd into Ihsan Perdana Sdn Bhd (IPSB), an entity established to manage 1Malaysia Development Berhad's corporate social responsibility programmes, and  landing into his (Najib) personal accounts, were delivered to his (Najib) residence in Langgak Duta.
Najib agreed with Sithambaram's suggestion, but maintained his stance that the account statements were not with him and he never authorised the money trails coming from the two companies into his accounts.
Sithambaram: And I would say sir, for myself, I won't be so stupid to see money, RM42 million coming in and going out, without checking.
Najib: That's on you
Sithambaram: I put it to you that you wilfully appoint Nik Faisal as the mandate holder of accounts and SRC CEO to accomplish this transfer of funds.
Najib: I totally disagree because there is no evidence to show that.
Sithambaram: I'm putting it to you sir, that Nik Faisal was your trusted lieutenant whom you planted in SRC to siphon funds from SRC into your accounts.
Najib: I totally disagree.
To another question by Sithambaram, Najib disagreed that his letters thanking the King of Saudi for the donations were fake and produced as a result of an afterthought.
When asked by the prosecutor if he still has the original copies of the letters, Najib said they must currently be inside the Prime Minister's Office.
Najib was making his defence on seven charges of misappropriating RM42 million in SRC International Sdn Bhd funds, comprising three counts of criminal breach of trust (CBT), three counts of money laundering  and one count of abuse of position in relation to the SRC funds.
The hearing before Justice Mohd Nazlan Mohd Ghazali continues tomorrow.
— BERNAMA