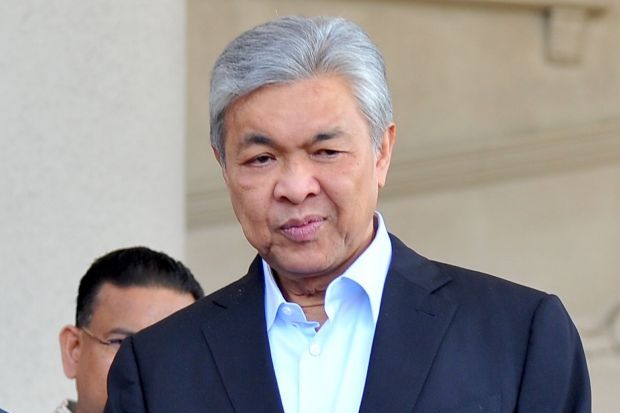 KUALA LUMPUR — The 2019 UMNO General Assembly, scheduled on Nov 13 to 16 has been postponed to Dec 4 to 7 to make way for the Tanjung Piai Parliamentary By-election.
UMNO president Datuk Seri Dr Ahmad Zahid Hamidi said the decision was agreed to by the UMNO Supreme Council which met today following the overlapping of the scheduled dates with the by-election's polling day on Nov 16.
''We will ensure all the machinery of UMNO and Barisan Nasional (BN) will be focused in Tanjung Piai,'' he told a media conference after chairing the UMNO Supreme Council meeting, here today.
The nomination date for the by-election would be on Nov 2 while early polling would be held on Nov 12. The by-election would be held following the death of incumbent Datuk Dr Md Farid Md Rafiq, 42, who was also deputy Minister in the Prime Minister's Department on Sept 21 due to heart complication.
At the 14th General Election (GE14), Dr Md Farid, an anaesthesiologist, represented Pakatan Harapan-Parti Pribumi Bersatu Malaysia (Bersatu) to win the seat with a majority of 524 votes.
The late Dr Md Farid, who was also Tanjung Piai Bersatu division deputy chief obtained 21,255 votes to beat Datuk Seri Wee Jeck Seng (BN-MCA) and Nordin Othman (PAS). Wee secured 20,731 votes while Nordin, 2,962 votes.
Ahmad Zahid, who is also BN chairman, said BN had decided to contest at the by-election but the announcement of the candidate to represent the party would only be made after all consultations with the component parties had been finalised.
''I have held discussions with MCA president Datuk Seri Dr Wee Ka Siong and will announce the candidate as soon as possible,'' he said.
In the meantime, Ahmad Zahid confirmed that UMNO had received an invitation from the organisers of  the Malay Dignity Congress addressed to him and members of the UMNO Supreme Council.
However, he said that he could not attend due to certain constraints and would send representatives to be headed by UMNO secretary general Tan Sri Annuar Musa and several party leaders.
The event would be held this Sunday at the Melawati Stadium, Shah Alam, Selangor.
— BERNAMA