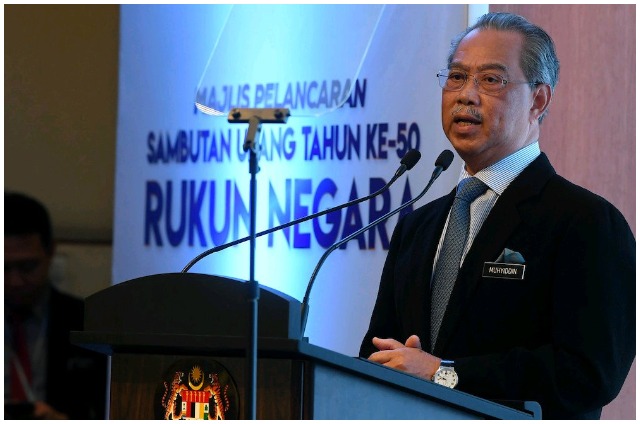 PUTRAJAYA— Prime Minister Tan Sri Muhyiddin Yassin launched the Rukun Negara Golden Jubilee celebration logo here today.
The logo was projected onto a screen in 3D animation after the prime minister had delivered a speech to kick off the 50th anniversary celebration of Rukun Negara, or the national philosophy, at Bangunan Perdana Putra.
Symbolising the five principles of Rukun Negara, the logo is a stylised five-stripe red and white tengkolok (Malay headgear), with the yellow crescent and star affixed on its front and enclosed within the figure 50 in blue.
The crescent and star represent the principle of Belief in God, while the tengkolok with the crescent and star symbolises Loyalty to King and Country; Supremacy of the Constitution; and Rule of Law.
The figure 50 marks the golden jubilee of Rukun Negara and the blue colour symbolises the practice of unity and the principle of Courtesy and Morality.
The logo was jointly produced by the Malaysian National News Agency (BERNAMA), Information Department and Kumpulan Media Karangkraf.
Kumpulan Media Karangkraf managing director Datuk Hussamuddin Yaacub said the logo is very meaningful to society as it promotes understanding of the five principles of the national philosophy.
He said the tengkolok is a unique Malay heritage and culture, as loyalty to King and country is of paramount importance to ensure the country's sovereignty is preserved.
"We feel that any logo to be presented must possess the 'spirit' to give a major impact on society. The people generally know about Rukun Negara but an understanding of this philosophy has not entered their hearts.
"The concept of the logo we wanted to promote was to restore the patriotic spirit to the country by emphasising understanding of the principles of Rukun Negara," he told Bernama.
— BERNAMA